A Wish for Home: An Uplifting Amish Romance (Secrets of Bliss Valley)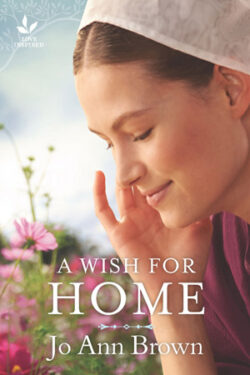 Author

Jo Ann Brown

Release Date

March 30, 2021

Publisher

Love Inspired

ISBN/ASIN

9780369700735

Our Rating

Reviewed by

Jo
Our Review
Jo Ann Brown is a new-to-me author, and I look forward to reading many more of her books. Amish romances are one of my favorite genres, and she didn't disappoint. A WISH FOR HOME is the first book in the SECRETS OF BLISS VALLEY series. It's a lovely Amish romance that will leave you wanting more!
Laurene is no longer plain and goes by the name Lauren now that she's living in the Englisch world. She returns to Bliss Valley unexpectedly when she gets caught in an ice storm and her car is damaged. She's in the Lancaster area for her job at a PR firm to land an account with a casino developer who wants to build a casino somewhere in Lancaster. She's also hoping for a promotion because of her hard work. Little does she know that she'll find comfort being back home. She reconnects with her great aunt and with others in the community her parents fled when she was a teenager, never really giving her a reason. As she embraces Bliss Valley once again, she finds peace even with Adam, her nemesis from her school days who still lives there. We find her straddling both worlds, trying to find out where she belongs since her current life isn't fulfilling her anymore.
I liked her friendship with Adam and how she was thoughtful and caring to his family, especially his young, motherless daughter. Laurene and Adam have come a long way and are supportive of each other. Besides work, she has a lot going on in her life when her mother drops a bombshell on her about who she really is. There are twists and turns to the story with multiple storylines going on. The author skillfully weaves the many plot lines together. Along with secrets and developing relationships with the townsfolk and God, a budding romance blooms into a happily ever after. There is wonderful closure and hints of what else is to come in future books. I look forward to reading the next book in the series.