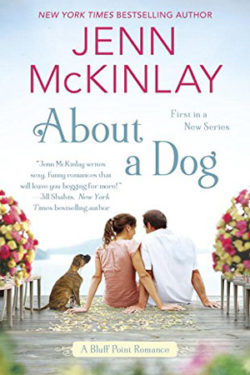 Author

Jenn McKinlay

Release Date

May 30, 2017

Publisher

Penguin Group (USA) llc

ISBN/ASIN

B01LX3H0Q5

Our Rating

Reviewed by

BPoston
Our Review
ABOUT A DOG by Jenn McKinlay was such a fun read. I loved this book.
Mackenzie (Mac) Harris returns home to Bluff Point Maine after being gone seven years. She is attending her best friend Emma's wedding. Mac hasn't returned home since she was left standing at the altar at her own wedding. Being back means facing everyone and risk exposing a big secret. She spent the night she was jilted in the arms of Gavin Tolliver, the little brother of her best friend Emma. She is ashamed of what she did and fears she will lose the love and respect of her best friend if her secret is discovered.  
Gavin Tolliver has had a big crush on Mac forever. Spending the night with her when she was so broken over her fiance running off with another woman was probably not the smartest move he could have made, but he couldn't stand seeing her in such pain. Over the years, he has dated other women, but none of them make him feel the way Mac did. So when he learns she is coming home for his sister's wedding, he decides to do whatever he can to make her see him as the man who really is perfect for her.  
This book has such quirky, fun characters. I found myself laughing out loud more than once. Mac's friends are a delight, and her great aunts remind me of my own. Crazy fun. Tulip, the abandoned dog Mac finds, melts your heart.  
Will Mac realize the age difference between her and Gavin is meaningless? Will Gavin be able to convince her he knows what he wants? Will they both realize their friends will support their love for each other and not judge them for what happened in the past? Will Tulip find her forever home? You have to read this book to find out. I guarantee you will not be disappointed.
RECOMMENDED READ