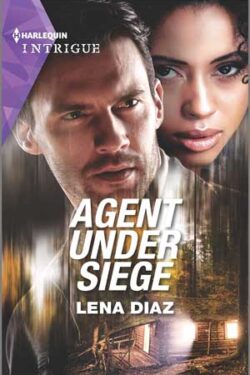 Author

Lena Diaz

Release Date

January 1, 2021

Publisher

Harlequin Intrigue

ISBN/ASIN

B08CSRNL7R

Our Rating

Reviewed by

BPoston
Our Review
What a roller coaster ride you go on reading AGENT UNDER SIEGE! The book is fast paced, and I found myself not wanting to put it down until I reached the end.
Teagan reaches out to former FBI profiler Bryson Anton to help her figure out if the man identified as the serial killer, The Kentucky Ripper, is truly in prison. Bryson worked the case as a profiler but left the FBI after his profile was misinterpreted by police in a hurry to make an arrest and a woman was killed. He blames himself for her death. He knows the correct man is now in prison but wants nothing to do with the case as he's left the FBI.
Teagan believes the Kentucky Ripper is alive and well and still committing murders.  However, nobody believes her. She arranges a meeting with Bryson and shares her theory, but he initially ignores her until he starts looking at the information she has provided. There are eerie coincidences between current murders and those committed by the Kentucky Ripper. Bryson knows he wasn't wrong in his profile. The correct monster is behind bars. What's going on?
Teagan also has a secret. She believes she was abducted by the Kentucky Ripper but managed to escape, making her his only living survivor. As she and Bryson begin to explore the cases she's brought him, it's clear that not everything is what it seems, and Teagan's danger. Can they figure out what's going on before someone else dies?
AGENT UNDER SIEGE is an amazing read! Lena Diaz does an awesome job of creating compelling characters and a mystery you get sucked in trying to figure out. 
Recommended Read