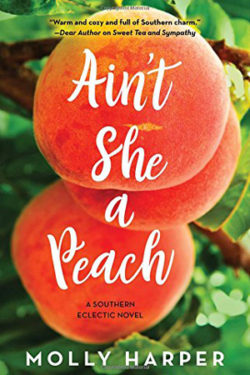 Author

Molly Harper

Release Date

June 12, 2018

Publisher

Gallery Books

ISBN/ASIN

9781501194634

Our Rating

Reviewed by

Jo
Our Review
AIN'T SHE A PEACH is the second book in the SOUTHERN ECLECTIC series. It's a nice continuation of SWEET TEA AND SYMPATHY, which is also set in Lake Sackett, Georgia. I wasn't as vested in this story since there seemed to be a lot of slapstick and humor at others' expense.
Frankie works in her family's funeral home, readying bodies for burial. She talks to the deceased as she works on them, and both Eric, the new sheriff, and her cousin, Margot, definitely get creeped out. There are some funny moments but some sad ones too. The funeral home keeps being vandalized, and Frankie knows who's responsible and wants to prove it, especially to Eric.
We are once again immersed in all things Southern with small town charm, politics, lots of relatives and long memories. Frankie and Eric are fighting their attraction, and it isn't going so well…or is it? Frankie's overprotective parents are front and center and try to control everything in Frankie's life until she's had enough. Things go downhill from there quickly as she tries to live her life on her own terms.
It's Halloween, and Margot spearheads the planning committee for the Trunk-R-Treat, much to others' chagrin since she's a recent transplant (even if she is a McReady but didn't grow up in the south or in Lake Sackett.) The planning meeting itself is a hoot. There are some twists to the storyline, but it flows fairly smoothly. Some of the characters had secrets but felt kind of shallow. There's a potential for a happily-ever-after, though an epilogue would have been nice. Eric's dog, Herc, was a nice addition.  It will be nice to return to Lake Sackett again.
Harper is a new-to-me author, only having read the first book in this series. I look forward to reading more of her contemporary novels.