All I Want for Christmas is a Cowboy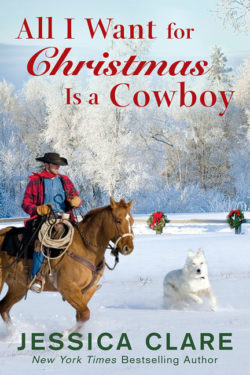 Author

Jessica Clare

Release Date

November 6, 2018

Publisher

Berkley

ISBN/ASIN

978-1984802187

Our Rating

Reviewed by

Dorine
Our Review
ALL I WANT FOR CHRISTMAS IS A COWBOY by Jessica Clare is a sweet, endearing romance with a sexy edge to it. Jessica Clare is a new-to-me author whose style I thoroughly enjoyed. I'm not normally attracted to sexy books with man chests on the covers, so even though I knew her volume of books were in that style, I couldn't resist this modern-day ranching story. I'm so glad the cover kept calling to me and I ignored my normal preferences.
Cassandra "Cass" Horn's career as a model's assistant would be the dream job for many. She spends her day catering to her employer, surrounded by famous people in New York City. But Cassandra's personal life leaves a lot to be desired. Especially when the model's boyfriend starts hitting on Cass to the point of harassment.
Hoping to escape this man's persistence while the model is out of town, Cass plans to spend Christmas alone at her family's cabin in a remote section of Wyoming. But, she doesn't plan for the weather that wrecks her plans and her memories.
When Eli Pickett volunteers to run the ranch by himself during the holidays, he expects to be alone with his dogs, working hard in the peace and quiet. While chasing down a runaway cow, he stumbles upon a car smashed into a tree, almost buried by the snow. The unconscious woman inside is about to shake up this sweet cowboy's world and give him a Christmas to remember.
This is a cute story. I finished it in two days because it was not easy to put down. I loved the stuck-in-a-cabin-in-a-blizzard theme, especially since this takes place on a working cattle ranch. The cowboy is adorable and so are his pack of dogs. Cass didn't stand a chance. This worked even better since Cass has amnesia from her car accident. It puts two people together that wouldn't meet on a day-to-day basis in their normal world.
The only flaws I found in this book were some repetitive thoughts in the beginning chapters. I'm not normally a fan of stories that revolve around Hollywood in any way, but this one was the perfect blend. It has that Hollywood flair because it's part of the heroine's career, but it proves that this new side of her personality is so much more fulfilling.
The love story is very sweet and endearing. I loved the dogs and how Cass gets involved at the ranch. It seems to be a juxtaposition combining this sweet love story with such hot love scenes, but the characters are what make it seamless.
The Christmas scenes are cozy and exactly what you'd imagine in a remote area. But they're not the focus of this book. It will give you a warm, cozy feeling, but the emphasis shines on this couple who fall deeply in love. I loved Cass and Eli together. They were cute and realistic.
Easily a standalone story without reading any other books by Jessica Clare, but I'm sure once you've gobbled this book up, you'll have to go back for more. ALL I WANT FOR CHRISTMAS IS A COWBOY is exactly what contemporary western romance readers are craving. If you dream of living on a ranch in Wyoming, then this book will make that dream spiral out of control. I can envision single women everywhere hightailing it there after reading this book. Take some warm clothes!