All I Want for Christmas is You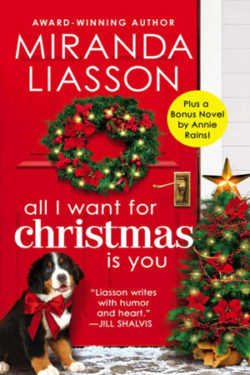 Author

Miranda LIasson

Release Date

October 29, 2019

Publisher

Forever

ISBN/ASIN

9781455541850

Our Rating

Reviewed by

Jo
Our Review
ALL I WANT FOR CHRISTMAS IS YOU is the third and last book in the ANGEL FALLS series, and it was nice to return to that small town in Ohio. (NOTE: This book Includes the bonus novel Christmas on Mistletoe Lane by Annie Rains.)  I liked reuniting with characters we've met before, especially Rafe's family. He's a hot firefighter and best friends with Kaitlyn, who owns the coffee shop in their small town. Rafe has baggage and hasn't even told his family all of it, but he feels things for Kaitlyn he doesn't think he should. He's hot one moment and cold the next, and that doesn't sit well with her at all. She's got secrets of her own and no idea how to tell him. Plus, she's like a part of his family since two of his sisters are her best friends.
Kaitlyn's struggling to help her niece get on track (since her sister sent her from California to live with Grandma.) Grandma is a little loose with making rules, so it mainly falls on Kaitlyn to figure out what's really going on in her niece's life. We're immersed in many of Rafe's family's activities. The story is filled with family and friends, the holidays, and a genuinely enjoyable romance. The epilogue that takes place one year after the story begins ties up loose ends. The story, though choppy at times, for the most part has a nice flow. The characters have depth to them, and the happily ever after was nicely portrayed.
I've enjoyed this series by Ms. Liasson and have added a few of her other books to my always growing TBR pile.
CHRISTMAS ON MISTLETOE LANE by Annie Rains is the first book in the SWEETWATER SPRINGS series. (I had already read two of the novellas that come later in the series so it was nice to be fully immersed in how it all began.) This is Kaitlyn and Mitch's story. They're thrown together when they both inherit her grandparents' B&B after her grandmother passed away. There's a clause in the will they must abide by or they will both lose it.
Kaitlyn and Mitch haven't met before, and Kaitlyn needs the B&B business even if Mitch isn't all in. They have chemistry, but both of them try to fight it. It's interesting to see how they work through their own issues. There are a lot of interesting guests at the B&B, and it's fun to hear their stories. There's some romance and a lot of heat even in the middle of winter! There are a lot of different story lines seamlessly woven together to a happily ever after. The epilogue that takes place two months after the story begins provides some nice closure. I do look forward to reading the other books in this series, which I've missed.  I enjoy Ms. Rains' style of writing.