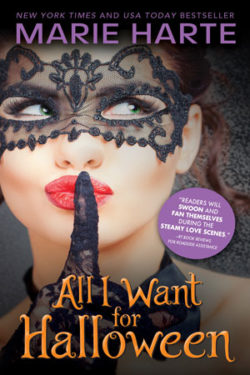 Author

Marie Harte

Release Date

September 26, 2017

Publisher

Sourcebooks Casablanca

ISBN/ASIN

B01NC0B6RZ

Our Rating

Reviewed by

BPoston
Our Review
ALL I WANT FOR HALLOWEEN by Marie Harte was such a fun story.
Sadie Liberato has no time for a permanent relationship. She was treated badly by her ex-boyfriend and now wants nothing more than a quick hook-up. She believes you can't trust a man to be loyal or faithful. She works hard with her brother and sister in their baking/catering business and is content with her life.
Sadie doesn't like dealing directly with people (it's hard to be nice all the time,) but her brother is forcing her to attend a Halloween party they are catering to help promote the business. She doesn't want to attend but then again, she has been in a dry spell. There might be an opportunity to meet someone interesting and have a little fun time.
Gear Blackstone is in the public eye and not in a good way. His best friend and business partner cheated behind his back with his fiance. He is angry and hurt and just wants them to go away, but they all work together on a reality TV show, and he needs to finish out his contract. He is followed constantly by the paparazzi, who really enjoying all the drama that is going on.  
Being forced to attend a Halloween party as part of his contract, Gear arrives knowing his ex will be there. He hopes to put in a quick appearance then take off, but things don't always go as planned. After the obligatory interviews, he spies a woman in a rocking Xena costume and can't help but check her out. He has no clue who she is, but within seconds, they are all over each other. He loves her attitude and straightforward manner. She is unlike any other woman he has known, and he finds her exciting and delightful.  
After some sleuthing, Gear discovers who his Xena warrior is. She left her sword behind at the party, and now he has the perfect excuse to go to her place of business to return it. He needs to find out more about her. When Sadie finds out her mysterious devil is the famous Gear Blackstone, she doesn't quite know what to do. He's sexy as hell, but she doesn't like that he is in the public eye.
She overheard a conversation and knows his ex-fiance and his former business partner set him up to be the bad guy to boost ratings for their motorcycle reality show. However, he doesn't seem to defend himself nor does not tell the public the truth. He won't stand up for himself. Why?
The chemistry between Gear and Sadie just sizzles. I was caught up in their story immediately. There is so much humor, and the characters are wonderful. The path Gear and Sadie take is not easy and involves them risking their hearts. Will they ultimately realize it is worth everything to be with the one who truly loves you for you? Guess you just have to read the book.
This is a great read.
A RECOMMENDED READ