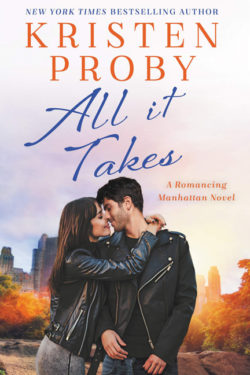 Author

Kristen Proby

Release Date

July 30, 2019

Publisher

Avon

ISBN/ASIN

B07F137YKR

Our Rating

Reviewed by

LJT
Our Review
​​​​​ALL IT TAKES by new-to-me author Kristen Proby is an engaging read with an unexpected twist at the end. The characters are interesting, and it was easy to become a part of their lives. I am a huge fan of big city romances, and this one just happens to take place in the busiest of them all, New York City. This is the second book from the ROMANCING MANHATTAN series, and it can be enjoyed as a standalone.
Sienna Hendricks is a dedicated attorney working for the city. She could make the big bucks at a prestigious law firm, however, doing so would force her to give up her weekends and evenings. Sienna's work schedule allows her to use artistic talents to paint and spend time with her family. She shares an instant attraction with Quinn Cavanaugh, opposing counsel to a case that personally involves her family. Quinn and his two brothers are founders of a very successful law firm. He is a workaholic, so when he finds time to unwind he lets his adventurous side take over. Sienna and Quinn are ordered by the judge to work together, to get to the truth of the matter that is near and dear to Sienna's heart. Over time, they fall in love.
Sienna and Quinn make a great couple. Ms. Proby does a wonderful job of evolving their relationship from colleagues, to friends, to lovers. Their connection is sexy and hot, and I loved how they communicated with each other, both in and out of the bedroom. I felt their love developing, and was cheering for them to be together from the moment I experienced their tangible chemistry. The nicely described secondary characters add a lot of enjoyment to the story. Overall, a solid read.