All Roads Lead to You (Stay)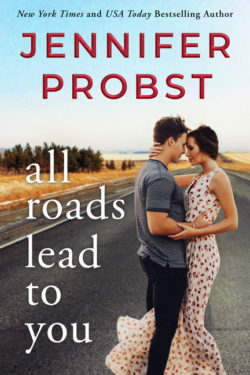 Author

Jennifer Probst

Release Date

July 23, 2019

Publisher

Montlake Romance

ISBN/ASIN

9781542006101

Our Rating

Reviewed by

Jo
Our Review
ALL ROADS LEAD TO YOU is book three in the STAY series. It's a wonderful continuation of the story, and it's nice to be reunited with characters and animals we've met before. There are new additions too, and they fit right in as if they've always been a part of the story.
This is Harper and Aidan's story, and while Aidan is just a guest at the inn run by Harper's sister, he becomes so much more. Harper runs a rescue farm and is always rescuing animals, big and small. Some she rehabilitates and sells to others once they heal, but others become a part of her family. Aidan is a horse trainer in Ireland, but due to some personal hits, he takes a break and comes to the U.S. to see if there's anything for him there. Little does he know that Harper's rescued thoroughbred, Phoenix, might be his meal ticket, as he ultimately becomes his trainer.
The story flows with an intensity as we watch Phoenix thrive and bond with another rescue animal. I learned a lot about horse racing and loved the descriptions of the training and the tracks. The story is filled with laugh-out-loud moments as well as some tears. There's romance not only between Harper and Aidan, but also with two other couples closely connected to the main characters.
That the animal rescue also serves to help young adults who are given community service at the farm (to make up for things they've done wrong) is a nice touch of humanity. The story is much more than romantic, involving issues of trust and compassion for both the animals and people involved. The passion is hot between Harper and Aidan, so take note.
A novella, SOMETHING JUST LIKE THIS, comes out later this year, and I can't wait to catch up not only with the family and their businesses but also the animals.
I've read Ms. Probst's first three books in the STAY series. I've added a few of her other books to my always growing TBR pile. Her writing is reminiscent of Susan Mallery and Jill Shalvis.