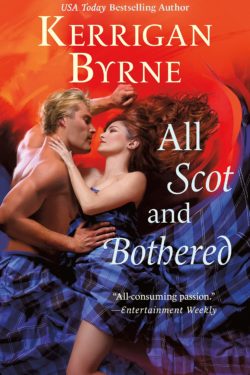 Author

Kerrigan Byrne

Release Date

September 29, 2020

Publisher

St. Martin's Paperbacks

ISBN/ASIN

1250318866

Our Rating

Reviewed by

Raonaid
Our Review
Cassius Ramsay is the Lord Chief Justice of the High Court. He is also the older half-brother of the current Duke of Redmayne. Ramsay investigates the disappearance of several young girls. His investigation leads him straight to the Scarlet Lady and her gaming establishments. Ramsay grudgingly protects Cecelia from her unknown enemies. However, the woman tempts him to abandon his ambitions. Can Ramsay learn to trust Cecelia? Or will yet another woman burn him?
Miss Cecelia Teague is a member of the Red Rogues, a sisterhood she and two others formed in boarding school. She discovers she not only inherits a notorious gaming hell but her aunt's enemies too. Cecelia adopts her aunt's moniker in order to protect her new business and its employees. When her life is threatened, she turns to the only man strong enough to help her. Can Cecelia decipher her aunt's mysterious codex? What dark secrets will the codex reveal?
There is just something about grumpy heroes that makes them delicious. Ramsay is a man shaped by his past. I understand his deep-seeded distrust for women. His mother's deplorable behavior fostered opinion, only for another to reinforce it. Fortunately, Ramsay finds a woman who changes his outlook on the fairer sex. What I admire the most about Ramsay is the inner strength and determination it took for him to rise up from nothing. He kept a goal in mind and worked stubbornly to achieve it. Ramsay did not allow naysayers to dissuade him from his chosen course.
Cecelia shares my niece's name. I adore the fact that she is not the usual thin and dainty heroine typically found in romance books. Instead, she is a tall, glasses-wearing, full-figured woman with a brilliant brain for mathematics. I admire Cecelia's fortitude to pursue her interests and ambitions. She refused to yield her place, even against male oppression. What I love the most about Cecelia is how she readily accepts everything about Ramsay, including his broody grumpiness. She has no inclinations to fix nor change him.
ALL SCOT AND BOTHERED is book two in Kerrigan Byrne's historical romance series, DEVIL YOU KNOW. The story can easily standalone. It is necessary to read the prior book to understand some of the hero's backstory and the heroine's strong bonds with her Red Rogue mates. Plus, I love that Piers and Alex, the couple from the first book, make frequent appearances in the story.
ALL SCOT AND BOTHERED is an enthralling tale of two lonely kindred souls finding each other during a chaotic time. I simply could not put this book down! I cannot wait to see who the author plans to pair up with the last Red Rogue.
A recommended read.