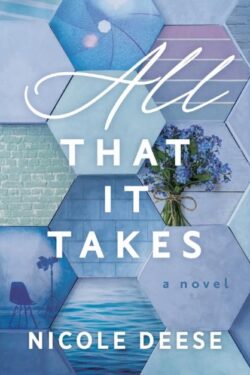 Author

Nicole Deese

Release Date

April 5, 2022

Publisher

Bethany House Publishers

ISBN/ASIN

9780764234972/B09B2PG5Y1

Our Rating

Reviewed by

Michele Rioli
Our Review
ALL THAT IT TAKES is a stunning, stirring masterpiece! I was hooked from the start while reading Ms. Deese's multi-layered steadfast story. The story is about Val Locklier who is a pretty, smart, single mom who focuses are her little boy's future. She moves cross-country for a job as a filmmaker, but everything implodes the first week. She deals with limitations and insecurities, due to a past illness and her parents doting on her. Although, fate pushes her out of her comfortable cocoon and she discovers a whole new outlook in life. Could it be her landlord has something to do with it?
Miles McKenzie is a handsome preacher with spiritual purpose. He returns home from his missionary work overseas to his house and discovers a lovely lady living in his upstairs apartment. Miles is reassigned to a new position, one that isn't in his future plans. He isn't happy with his new job and resentment sinks in. However, Miles and Val are suddenly thrust together and find out that God has other plans for them. They are extremely attracted to one another. As Val battles with hiding behind the camera and Miles struggles with spoiled prospects, they will find that sincere love and sacrifice are needed, to be together. Will they overcome all the obstacles they face?
Highly inspirational and smartly written, ALL THAT IT TAKES, is a must read! God works in mysterious ways and when we thwart His plan, all will not go well. We must learn to listen with our hearts, mind and soul if we are to carry out God's plan for our lives. Ms. Deese has expertly chosen a story filled with hope, love and most important peace. All things will come to pass in the end if we just follow God's word. Val and Miles learn that the hard way as they struggle with setbacks thrown in their path. They also forge a deep bond of love as they work towards making things right in the church and community. This is a rich multi-faceted story with profound passages, charismatic characters, and a ravishing romance. ALL THAT IT TAKES is simply sensational!