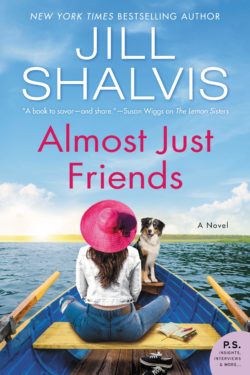 Author

Jill Shalvis

Release Date

January 21, 2020

Publisher

HarperCollins

ISBN/ASIN

0062897802

Our Rating

Reviewed by

Raonaid
Our Review
Camden "Cam" Hayes works for East Coast's Department of Homeland Security, as well as the Coast Guard. After the loss of his brother, Cam visits Wildstone to check up on his father and to fulfill a promise. He never expects to meet a woman like Piper Manning. Cam finds that she soothes his inner turmoil. What sacrifices is Camden willing to make to be with Piper? Can he keep his promise to his dead brother?
Piper Manning works as an EMT in Wildstone, California. She intends on fixing up the property her grandparents left her, so she can complete her education to become a physician assistant. During a bad storm, Piper runs into the town's new guy. Her brother and sister return home laden with secrets. Camden and her siblings' presence threaten Piper's plan for the future. Will Piper be forced to put her dreams on hold, again? Or will her siblings' needs exceed her own?
Camden is such a sweetheart! I like that Camden never once resented his father for not being actively involved in his late childhood. Instead, he tries to connect with his father, no matter how trying the man is. I admire Cam's stance on secrets. He made it clear his dislike of keeping them from Piper, especially the one he knew would hurt her. What I love the most about Cam is how he accepted all of Piper's quirks. He understands that those eccentricities are what make Piper so appealing.
Piper is an amazing woman! She is the type of person who puts others' needs ahead of her own. I adore Piper's relationship with her brother and sister. It is not perfect. They have their share of ups and downs, especially because of Piper's inability to turn off her big sister mode. What I like most about Piper is her caring nature. Day-to-day, she willingly looks after her neighbor without asking. Piper also puts every ounce of her being into her work as an EMT.
ALMOST JUST FRIENDS is book four in Jill Shalvis' contemporary series, WILDSTONE. The story's tone is slightly different from the author's other works. There is still Jill Shalvis' trademark humor, yet she tackles some deeper subjects. I like how the book is not just about Piper and Camden but their family members too.
ALMOST JUST FRIENDS is a poignant yet fun tale about the importance of family. I simply could not put this book down. Honestly, I did not want it to end. I cannot wait to visit Wildstone again.
A RECOMMENDED READ.