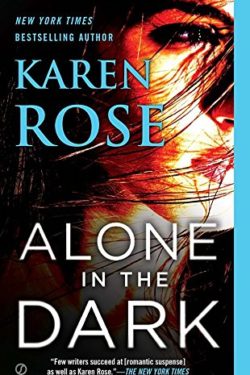 Author

Karen Rose

Release Date

February 2, 2016

Publisher

Signet

ISBN/ASIN

0451466748

Our Rating

Reviewed by

Raonaid
Our Review
Marcus O'Bannion goes out of his way to help victims receive their justice. Scarlett Bishop can never forget the compelling man she met during a previous murder case. Will Marcus and Scarlett give the dead teenage girl justice? Or will her death go unavenged?
Marcus O'Bannion is a former Army Ranger. He runs the newspaper company he inherited from his grandfather and acts as its publisher. Still mourning his younger brother's death, Marcus tries to help a desperate seventeen-year-old girl. When the girl is killed in front of him, he uses all his resources to find her killer. The girl's unnecessary death reunites him with Detective Scarlett Bishop, the very woman who has haunted his dreams and fantasies for nine months. Marcus cooperates with Scarlett and aids her in the investigation. He fears, however, that Scarlett may learn of his many secrets. Every new piece of evidence they discover unlocks another puzzle piece surrounding the girl's mysterious life before her death.
Scarlett Bishop is a homicide detective in Cincinnati, Ohio, who also works co-jointly with the FBI on the Major Case Enforcement Squad's task force. She agrees to meet a certain man from her recent past. Scarlett arrives at the designated place, only to find Marcus O'Bannion near the dead body of a teenage girl. Marcus collaborates with her and contributes to the investigation, yet she senses he is holding something important back. Despite Marcus being an active witness in her on-going case, Scarlett acts upon the attraction that started nine months ago. During their time together, Scarlett learns all of Marcus's deepest and darkest secrets. The investigation leads Scarlett and Marcus into trouble as they unravel the depravity behind a human-trafficking ring.
Marcus is such an admirable man. I admire the lengths he and his newspaper crew members underwent to help victims escape their predators. Marcus is a compassionate man with morals who uses his newspaper to focus on revealing monsters' crimes to the public so the authorities have an easier time to convict them. He knows the risks their vigilante goodwill involves, and Marcus purposely shoulders the full responsibility of their actions to spare his crewmates. No stranger to tragedy, he has endured something no person should ever have to, the loss of two younger brothers. Instead of allowing the loss to turn him bitter and remote, Marcus channels the negative emotions and transforms them into something positive. He never behaves like a pampered rich boy, and I love that he only flaunts his wealth when unselfishly using it to help those in need.
Scarlett is everything I love in a heroine. Tough yet secretly softhearted, she forages her way in a male-dominated profession. Inwardly, Scarlett battles her emotions, yet she never allows those feelings to interfere with performing her duty. I adore how she accepts her susceptibility to toe the line but Scarlett's sense of right never allows to cross over that line. She too has experienced tragedy, so she recognizes a kindred wounded soul in Marcus. Scarlett knows how far she can push Marcus and when to let up. With Marcus's help, she eventually copes and comes to terms with her inner demons to heal.
ALONE IN THE DARK is book seventeen in Karen Rose's ROMANTIC SUSPENSE series. Unfortunately, I have not read the previous books in the series, however, that did not hamper my ability to follow the storyline. ALONE IN THE DARK can easily stand alone, yet I did get the impression that Scarlett and Marcus's first initial meeting happened in an earlier book. I admit the book's sheer size intimidated me a little. The story starts out slow but the slowness is necessary so the author can set the atmosphere, tone, and characters involved in the story.
ALONE IN THE DARK is a nail-biting crime suspense with a CRIMINAL MINDS and CSI flare. I am curious to know if Karen Rose plans to write a story involving Stone O'Bannion and Delores or Diesel and Dr. Dani. I hope she does because I will definitely read their stories.