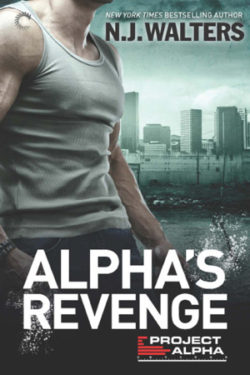 Author

NJ Walters

Release Date

December 19, 2016

Publisher

Carina Press

ISBN/ASIN

B01JZ41Y2E

Our Rating

Reviewed by

SJ
Our Review
ALPHA'S REVENGE by N.J. Walters is the third in her Project Alpha series. The book takes place in a post-apocalyptic future Earth. The world-building is well done, and the heroine's character fully developed, but the insta-love between the main characters was hard to absorb. Though the book is the third in the series, it was easy to understand as a new reader. 
We're first introduced to Charity as she's fleeing the perfect society ruled by her sadistic father, the General. After witnessing the torture of a resistance member, she's finally set her sights on freedom. But first she'll inform the rebels that trouble is coming–words she heard on the last breath of a dying rebel.
When she finds Adrian, a genetically enhanced soldier and leader of the Resistance, it's lust at first sight. Charity has been used poorly by her father and the man he chose to be her husband. Adrian is lonely and alone, and in Charity he sees someone he can love.
The chemistry between the pair seemed genuine, but the feelings engendered in Adrian weren't explained well enough for me to understand if it was some instinctual, alpha-mating issue or if he just really had the hots for Charity. His character seemed two-dimensional in comparison to the heroine, and I wonder if the novella length perhaps had something to do with the lack of depth in the hero and their relationship. Charity too just seemed to love him right away, and I kept waiting to see more of an emotional connection between the two. Yet the tight timeline didn't give them the time to embrace the relationship slowly. 
The story is fast-paced and exciting, so if you don't mind the somewhat shallow relationship build, ALPHA'S REVENGE is worth the read. 
To read the series from the beginning, read:
EMBRACING SILENCE
ASSASSIN'S AWAKENING
ALPHA'S REVENGE