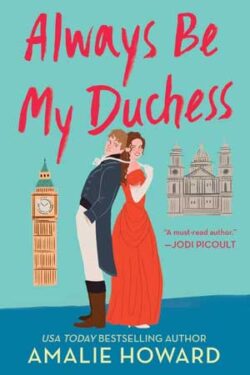 Author

Amalie Howard

Release Date

July 12, 2022

Publisher

Forever (Grand Central Publishing)

ISBN/ASIN

9781538737712

Our Rating

Reviewed by

Raonaid
Our Review
Lord Lysander "Stone" Blackstone, the Duke of Montcroix, wants nothing more than to increase the ducal coffers. When Stone gets lost in the seedier part of town, a young woman comes to his rescue. He believes Geneviève Valery can help him with his current problems. Stone offers her a small fortune if she will pose as his fake fiancée for the remainder of the season. However, he cannot seem to ignore the attraction between them. Can Stone let Geneviève go once their business deal is over? What lengths will he go to keep her permanently?
Geneviève "Nève" Valery is a down-on-her-luck ballerina. After being blacklisted in France, she travels to England in hopes of finding new prospects. Nève encounters a lost duke instead, and she impulsively saves him from some cutpurses. With no other job opportunities, she reluctantly agrees to Stone's unorthodox business proposition. Nève never imagined she would fall in love with the stone-faced duke or find friends among the peerage. Will loving Stone bring Nève heartbreak? Can she thaw his icy heart?
It took me a while to cozy up to Stone, only because I am unfamiliar with neurodivergence. The author does a brilliant job of showing the difference in a neurodivergent person's mental and behavioral processes, without telling readers outright that he suffers from a disorder. I like it when authors break away from the usual norm with their heroes (and their heroines). What I adore the most about Stone is his view on women's capabilities. He does not share society's bias thoughts and opinions of a woman's place. Stone believes a woman can become whoever or whatever they want. Their gender should not define nor suppress them.
Nève proves to be the perfect counterbalance to Stone. Her passionate and hot-tempered demeanor balances out Stone's cold and detached personality. I admire Nève's refusal to fall into the trap most actresses and dancers do. She is steadfast in her decision not to become some nobleman's trophy or mistress. Instead, Nève wants to succeed because of her skill and ability. What I like the most about Nève is her acceptance of Stone's idiosyncrasies. She never once belittled him over his differences, but she tried to understand him better.
ALWAYS BE MY DUCHESS is the first book in Amalie Howard's historical romance series, TAMING OF THE DUKES. This author is still relatively new-to-me. I enjoyed her novella in the anthology BIG DUKE ENERGY, so I decided to give one of her full-length novels a try. And it did not disappoint. I really enjoyed the side characters and their interaction with Stone and Neve. I did get the impression that Laila and her dandified Marquess have a story.
ALWAYS BE MY DUCHESS is a cute and entertaining tale of two opposites discovering love. I cannot wait to see which members of the Queens Club, aka Hellfire Kitties, is next. Secretly, I hope it is Lushing and Briar!