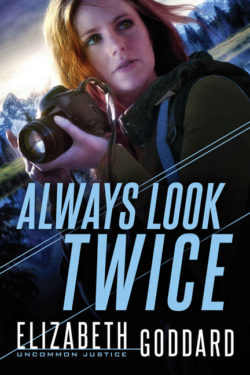 Author

Elizabeth Goddard

Release Date

October 1, 2019

Publisher

Revell

ISBN/ASIN

9781493419418

Our Rating

Reviewed by

Book Lover
Our Review
ALWAYS LOOK TWICE by Elizabeth Goddard is a Christian romantic suspense. Harper Reynolds is crime scene photographer who has taken a leave of absence from her job because she's suffering survivor's guilt when she witnessed her father's murder as a child. She takes several months off to travel with her sister and focus on outdoor photography that doesn't focus on death and dying. But when she's in Jackson Hole, Wyoming, the town where she grew up, photographing a bear in the wild, she witnesses a murder and captures it on film. The killer sees her and now her life is in danger.
Heath McKade is a reserve deputy and owns a guest ranch in Jackson Hole. While out with his guests, he hears gunfire and goes to investigate. He finds his old childhood friend, Harper, dazed and injured. He takes her to the hospital and contacts the sheriff. Heath is assigned to protect Harper and her sister.
There are several red herrings throughout the story that keeps the reader guessing as to the identity of the shooter to keep the reader engaged in the suspense. The romance is a very slow build, and there are a few references to faith in the story, but not excessively. 
The issues that kept Heath and Harper apart felt contrived, and it wasn't really clear why they couldn't get together since they clearly were in love with each other. It also felt like Harper did things that as a forensic photographer she would have known better than to do, like entering a house while waiting for a search warrant.
While this is book 2 in the series it is easily a standalone book.