Ambush Before Sunrise (Cardwell Ranch: Montana Legacy)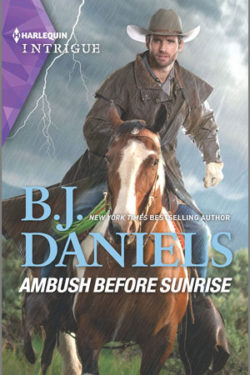 Author

B.J. Daniels

Release Date

May 19, 2020

Publisher

Harlequin Intrigue

ISBN/ASIN

9781335136510

Our Rating

Reviewed by

Jo
Our Review
AMBUSH BEFORE SUNRISE is the third book in the CARDWELL RANCH: MONTANA LEGACY series and it's full of action, adventure, love gone wrong, and cowboys. This is Jinx's story. She's the new owner of the Flying J Bar MC Ranch in Wyoming, after the death of her father. Her soon-to-be ex-husband is doing everything to put fear into her. He doesn't want a divorce, but what does he want besides scaring Jinx at every turn?
When she finally gets a few cowhands to help her get her cattle to the summer range, things take a turn for the worse. In the dark of night, things seem to be going wrong. Not everyone is who they seem, but luckily the Cardwell twins, Angus and Brick, and their cousin Ella are some of the good guys.
The danger is clear, with shootouts, injuries and, even death. Angus and Jinx have an attraction and a past, though that's a little foggy to Jinx. This romantic suspense has a few  unexpected plot twists. There is a nice flow to the story and well fleshed-out characters. I haven't read the first two books in the series but didn't feel lost, as most blanks were filled in. And the story wraps up nicely.
Ms. Daniels is an author I enjoy reading for her small towns and strong families, stronger women and hot cowboys.