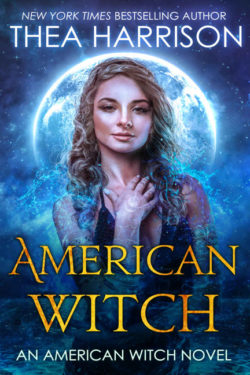 Author

Thea Harrison

Release Date

April 29, 2019

Publisher

Teddy Harrison LLC

ISBN/ASIN

9781947046184

Our Rating

Reviewed by

SJ
Our Review
For a huge fan of Thea Harrison's The Elder Races series, this departure from her Wyr characters is…fascinating! I admit I had some trepidation upon learning that AMERICAN WITCH would be the first in a trilogy of stories about witches (humans), as her Wyr characters are so incredibly well-crafted and fun, but Harrison, as usual, does not disappoint!
In AMERICAN WITCH, Molly Sullivan is a new witch coming into her powers. Unfortunately, she's also going through a major life event–divorcing her terrible husband. Josiah Mason just happens to be nearby to offer help…with strings attached. He's intent on bringing down an evil witch, and Molly just happens to land in his cross-hairs with ties to danger she knows nothing about.
While in the middle of her divorce, she stumbles across some incriminating documents with far-ranging consequences that some powerful people will kill to protect. In the process, she goes into hiding while learning about her powers from Josiah. Despite themselves, both Molly and Josiah begin to fall for each other.
The characters have depth. There is no instant happily ever after, and the gravitas of their situations strikes true as the characters react honestly to danger and to each other. I liked that they didn't exactly care for each other at first. Molly is a wonderful heroine, learning as she goes and not afraid to make a mistake. Josiah has some rough edges that smooth considerably as he begins to open up and the story progresses.
A wonderfully plotted and character driven story, AMERICAN WITCH delivers danger, witchcraft, and passion between stubborn protagonists you can't help but root for. I can't wait for the next two books in this series. Well done, Ms. Harrison! And thanks for a book I'll be reading over and over again.