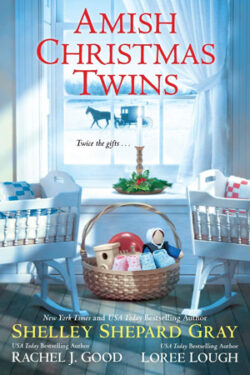 Release Date

September 29, 2020

Publisher

Kensington

ISBN/ASIN

9781496717856

Our Rating

Reviewed by

Jo
Our Review
AMISH CHRISTMAS TWINS is a warm Christmas anthology filled with (you guessed it) twins, holiday celebrations, romance, and love. The stories are vastly different but all held my interest from the first page to the last. And I love the cover.
THE CHRISTMAS NOT-WISH by Shelley Shepard Gray is a heartwarming but also heartbreaking story. Jemima and her younger brother, Roy, lost their parents three years ago and have been placed with many foster families since then. In their placement before the current one, the couple was mean and only took them in for the money they received as foster parents. Jemima and Roy don't want to get their hopes up that E.A. and Will might give them their forever home, especially after a secret is revealed. Fast-paced and filled with caring and love, the story has nice closure (especially since the last chapter takes place one year later on Christmas Day) and a wonderful happily ever after. An emotionally rewarding read.  
NEW BEGINNINGS is authored by Rachel J. Good. She's one of my favorite authors of Amish fiction, and she writes phenomenal books. This is Elizabeth and Luke's story, and it showcases how Luke's shyness years ago cost him everything. He and Elizabeth had feelings for each other but neither knew how the other felt. They were childhood friends, along with Elizabeth's deceased husband. When her husband died, it seemed as if he took all her dreams with him. The story has many heartbreaking moments for Elizabeth, yet Luke always helps her through. The work ethic of this caring, small community really encapsulates the love in the story. "New Beginnings" has more than one meaning in this heartwarming story.
 
TWINS TIMES TWO is by Loree Lough, and it's a wonderful story. Twin cousins are dubbed "Double Trouble." They decided to taunt a bull on a neighbor's farm and this could have turned out a lot worse than it did! Instead if seems to set the four boys on the right path after their parents issue their punishment. They have to help Jube, a dairy farmer and the owner of the bull, with chores, and he imparts wisdom to them on many fronts. Watching their turnaround and their effect on Jube was heartwarming. There's a secondary story involving Jube and Abigail, who have a history that took a bad turn on the night her husband died several years back. That part of the story looks promising for a happily ever after with a lot more story to tell, but unfortunately, the story ended too abruptly for me.