An Alaskan Christmas (A Wild River Novel)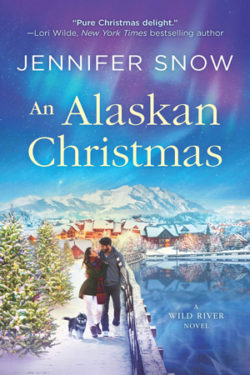 Author

Jennifer Snow

Release Date

September 24, 2019

Publisher

HQN

ISBN/ASIN

9781335041500

Our Rating

Reviewed by

Jo
Our Review
AN ALASKAN CHRISTMAS, the first book in the WILD RIVER series, drew me in from the first page to the last. I tried to read slower, which is so unlike me, so that I could savor the story and feel every emotion. I reveled in every nuance, felt the cold, the wind and snow, and loved the small town and the mountains. Alaska is a state I hopefully will get to visit one day so I can see with my own eyes what was so vividly described by Ms. Snow.
The characters, of which there were many, all had a depth to them. All were important in the telling of the tale but none more so than Reed, Erika, and Cassie (along with her dog, who was a nice addition to the story.) The different plots in the story were woven throughout and tied together seamlessly. This was an emotional read that had my heart racing and tears streaming when not laughing out loud,especially where Diva was concerned.
Reed and Cassie were siblings and had a close relationship. Their dad disappeared when they were young, and they had no idea if he was dead or alive. Erika and Cassie were best friends growing up but lost contact and hadn't spoken in ten years. That all changed when Erika, a surgeon in Anchorage, was forced to take a two week vacation and reached out to Cassie for a possible visit. After a few false starts, Erika and Cassie reconnected, but Reed and Erika had an instant dislike for each other …along with some buried attraction stemming from the past.
In the story, Cassie's business, Snow Trek Tours, and Reed's leadership role as a volunteer with Wild River's mountain search and rescue team, played a huge part in the plot. The reader was taken along on many search and rescues to see the teams at work. And Erika seemed always to be in the thick of things. She and Reed became close once they acted on their attraction, and there were more than a few hot and steamy moments between them. But Erika was supposed to return to her workaholic life in a few weeks, so could their relationship go any further?
The story had a nice flow and an absolutely lovely romance. There was wonderful closure, especially with the epilogue. I can't wait to return to Wild River, Alaska to see whose story will be told next.
Ms. Snow is an author whose books I've been reading for many years and always enjoy. I look forward to reading whatever she writes, not just in this series.
A RECOMMENDED READ!