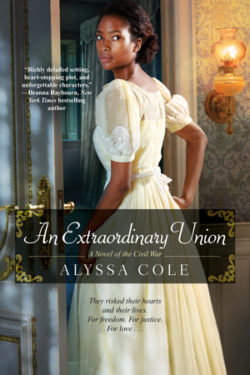 Author

Alyssa Cole

Release Date

March 28, 2017

Publisher

Kensington

ISBN/ASIN

9781496707444

Our Rating

Reviewed by

Dorine
Our Review
AN EXTRAORDINARY UNION by Alyssa Cole convinced me I need to read more of this author's books. Her unique characters lead us through a dangerous time during the American Civil War. Subterfuge, peril, and adventure preclude an unusual romance that I couldn't wait to see become a happy-ever-after.
Freed former slave Elle Burns becomes a spy for the Union army. Her photographic memory is an aid for passing information. She elects to go back into the fury as a mute slave working at a Southern home to aid their cause. Her contact is an unexpected Scot posing as a Union rebel. Detective Malcolm McCall works for the esteemed Pinkerton's Secret Service and earns Elle's trust with his credentials.
Elle and Malcolm's attraction is evident from the beginning, but I couldn't imagine how the author would pull off their romance under these historical circumstances. I had hope, as they were so much fun together, but it wasn't until the middle of the book that I believed it just might happen.
I love Elle. She's a strong, dominant woman of color who believes in her cause beyond fear for herself. I loved how she handled Malcolm, and their interactions made me laugh. Their appreciation of each other was believable and sigh-worthy.
I crave accurate Civil War novels, and AN EXTRAORDINARY UNION is one of the best I've read in a long time. I loved that it was from the slaves' point of view. It speaks to the heart of their lives at that time, and I couldn't help but pray for a positive ending. I loved this book so much that I immediately ordered book two of THE LOYAL LEAGUE series, A HOPE DIVIDED, for review.
Author Alyssa Cole impressed me with her historical knowledge and keen sense of characterization. The villains were nasty beyond redemption, and the good guys were brave while representing their beliefs. AN EXTRAORDINARY UNION contains everything a historical romance lover requires, and then some.
A Recommended Read as a historically unique romance!