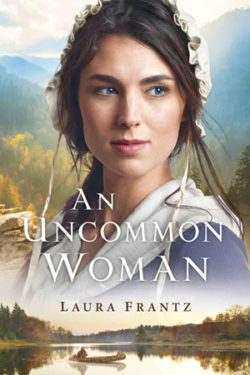 Author

Laura Frantz

Release Date

January 7, 2020

Publisher

Revell

ISBN/ASIN

9780800734954

Our Rating

Reviewed by

Dorine
Our Review
UNCOMMON WOMAN by Laura Frantz is exactly what this early American history lover pines for, and then some. I am obsessed with 1700s American history. I'll read fiction and non-fiction from that time period, but I especially crave romances featuring these brave people.
This book fed that craving with not only the history I love, but settled in around a river with families who tried to cultivate a life in this wild place.
The only life Tessa Swan and her brothers remember are what their parents forged from this western Virginia land along the Buckhannon River. Even after their father is murdered, they fight to keep the land they're farming. Fort Tygart is thankfully near enough to protect them when the surrounding tribes get restless, but is this troubled territory truly where they want to stay?
This is exactly the type of frontier story that I love. Lush with wild-crafting and endurance to absorb, the realism of living near a fort during this era is beautifully pictured. There were a variety of engaging characters to keep the story moving forward.
It isn't a story about how Native Americans are bad and the while settlers are good. It is realistic. It is a story of retaliation and forgiveness. Two of the characters were captured and raised by the Lanape Indians, the one true people. Their love of their adopted family and friends becomes intertwined with the loss of never growing up with their birth families.
These captives' insight into the Indian way of life in the 1700s brought heart to the story. Yes, the whites took over the Indians' land, and naturally, the Native Americans retaliated. America's history is well-represented in a respectable way. Including explaining how many captives are believed to respectfully replace members of the tribe who have died in battle.
There isn't a historical novel I crave more than frontier America. I love these stories even more when they portray the bonds formed between the settlers and the tribes. In this book, friendships are only hinted at, and those are from the captives' point of view. There isn't a Native American point of view, except the understanding hinted at by the returned captives who are torn between two worlds. That's the only thing that would have made me more over-the-moon about this book than I am – a Native character's point of view.
I'm especially enamored by the amount of research done by this author. Her efforts made this book come alive with history. I felt as if I was right there with the lead character, Tessa, step-by-step, like a movie playing in my head in High Definition.
The only thing that made me stumble a bit in the beginning was the frequent use of fragmented sentences and period terms. Those two things aren't the norm in what I usually read, even historical fiction, so I found myself stopping and looking words up, as well as wondering why sentences where fragmented.
What was the purpose for fragments? It dawned on me how lifelike the fragments made the characters seem. We don't think or talk in grammatically correct, fully-formed sentences all the time. Our thoughts are fractured and sporadic, just like this. Also, the fragments said a lot with the right words by emphasizing. They made my vision of the novel unfolding much more vibrant once I became used to the technique.
Author Laura Frantz has earned herself a new fan, who is about to gather every early American historical novel she has written. This book is Christian romantic fiction, so it does contain some biblical verses. They're well-placed and exemplify the characters' growth, as they rely on their faith to get them through dangerous circumstances.
Toward the end of the novel at the height of their story, I cried. I had grown to love the characters and their sorrow was mine.
AN UNCOMMON WOMAN is so much more than I expected, as well as everything I crave. If you love frontier stories with heart, I highly recommend this book as an authentic immersion into history with engaging characters who will keep you awake reading all night. More, please!
A Romance Junkies' recommended read.