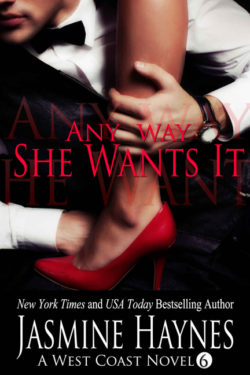 Author

Jasmine Haynes

Release Date

March 17, 2018

Publisher

Redwood Valley Publishing

ISBN/ASIN

B07BJGZ617

Our Rating

Reviewed by

Kathy Coatney
Our Review
Jasmine Haynes has a winner in book six of the West Coast series, ANY WAY SHE WANTS IT. I immediately fell in love with widower David Farris. A good, kind, responsible man, he struggles over the loss of his wife and helps his grown children through their grief at the expense of his own needs.
In walks Tricia Connelly, his sister's best friend from high school, and the sparks fly. Tricia is a woman who knows what she wants, and she wants David–even though he's afraid to start living again, consumed with guilt. But Tricia tempts him to put aside his guilt and start living again.
As David struggles to move forward, there are plenty of sizzling-hot scenes to have you rooting for them all the way to the end. Love this series and can't wait for the next book!