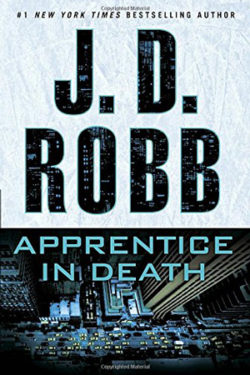 Author

J.D. Robb

Release Date

September 6, 2016

Publisher

Berkley

ISBN/ASIN

9781101987971

Our Rating

Reviewed by

Kate Curran
Our Review
Lt. Eve Dallas takes on LDSK (long distance serial killer) in APPRENTICE IN DEATH. Eve Dallas just gets better and better with each book. I love the characters from Roarke to Detective Delia Peabody, Captain Ryan Feeney, Detective Ian McNab and Dr. Charlotte Mira. Robb has created characters that stay with me, and that I love to read about again and again.
This story is eerily similar to the DC sniper attacks with a younger and older shooter. In this book, the two villains are killing people, and it forced me to deal with the nature or nurture aspect of what creates an evil person. I'm still firmly in the nurture camp on that.
Dallas with her usual grit goes after the pair determined to bring justice to the victims.
What I love about this author is she brings the feel of detective work to her writing without bogging down the story. If you love suspense, and you love memorable characters, you will love APPRENTICE IN DEATH. I was drawn in from the first page and couldn't put it down. It hits my top 10 reads for 2016, and I'm looking forward to the next In Death book.
A RECOMMENDED READ!