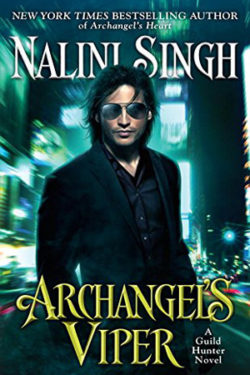 Author

Nalini Singh

Release Date

September 26, 2017

Publisher

Berkley

ISBN/ASIN

978-0451488244

Our Rating

Reviewed by

SJ
Our Review
In Nalini Singh's tenth book in her thrilling Guild Hunter series, ARCHANGEL'S VIPER, readers finally get Venom's story. The vampire has been a steady presence in her previous books, an oddity even among his kind, but his history has never been explored. And Holly Chang, a human turned into something else after being attacked by a crazed archangel, has finally come into her own. We learn what has happened to her since the incident that altered her life, and how she and Venom will come together to deal with the danger threatening her.
Though the characters in this novel have been introduced in previous books, and this is a wonderful continuation of the series, Singh also did a terrific job of making it a stand-alone title. I will say the experience is richer if you start from the beginning, with ANGEL'S BLOOD.
Holly Chang called herself Sorrow after the life-changing ordeal she went through years ago, when she was brutally attacked by an archangel in bloodlust, one who turned her into something not vampire, but something else entirely. But no one is quite sure just what that is. Holly has begun evolving into something monstrous, and she's afraid of the repercussions if she tells anyone. But there's something ugly and vicious inside her wanting to be free. 
Venom is a vampire with snakelike qualities. He was changed by Neha, the queen of serpents and poisons, and she's never made another being like him, no matter how hard she's tried. Venom's more snakelike than vampiric, with slit eyes and an ability to move with serpentine quickness. But that otherness inside him complements the otherness inside Holly. He understands her as others cannot, and he feels more than annoyance when dealing with her. His responsibility to oversee her care, to protect her, slowly turns into an affection that deepens to love. 
But someone's put a bounty on Holly's head. And with the danger facing her from kidnappers as well as a threat they'd thought long gone, they might not have a future to look forward to at all. 
The journey Holly and Venom take is a wonderful one. They gradually turn from combatants to sniping comrades to lovers, and the pace they take to get there flows naturally. Strength, compassion, humor, and the ability to overcome deep pain are characteristics both protagonists share. It makes them characters to root for, who feel real, despite the obvious paranormal nature of them both.
Fast, thrilling, and sexy, ARCHANGEL'S VIPER is an exciting addition to the GUILD HUNTER series and a book not to be missed. A must for paranormal romance fans.