Arden (Undercover Billionaire)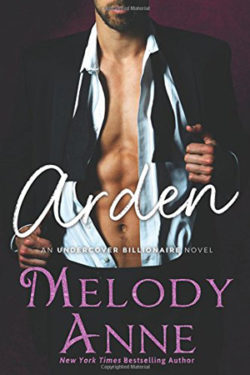 Author

Melody Anne

Release Date

June 26, 2018

Publisher

Montlake Romance

ISBN/ASIN

9781503902817

Our Rating

Reviewed by

Jo
Our Review
ARDEN is the second book in the UNDERCOVER BILLIONAIRE series. In the first book, KIAN, we were introduced to the five siblings—four brothers and a sister. Since this is only book two there is much more story to tell!
Arden is a high school teacher and is attracted to Keera—the principal and his boss—and the feelings may be reciprocated. The story had a bit of an ick factor for me since they weren't good about hiding the way they felt and were often seen together in and out of school.
Arden is very protective of Keera when some bad things start happening to her office, the school, and her home. She's not one to live with fear, due to her upbringing, which we learn about a little at a time. The vice principal isn't a nice person, though he tries to show he is. He gives off bad vibes, but Keera is always trying to find the good in people even when things get dicey. And he was her first "friend" when she first became principal there not that long ago.
Arden's brother, Declan, gives Arden a retired police dog so the dog will continue to feel useful. Declan also wants Arden to use Max (the dog) to sniff out drugs at the high school, since there are suspicions that something drug-related is going on. Max has definite personality traits and seems like he can understand both words and feelings. He's a nice addition to the story. It's fun to watch him bond with Arden,and to see how close Max gets to Keera, always wanting to be there to protect her. It seemed as if Max and Arden were actually fighting for the honor!
The story is filled with family and school-related activities. It's also full of emotion and romance. There's an underlying mystery and hidden agendas to the story that at times feel predictable. Most of the book has a nice flow, but parts are a little choppy and don't always segue into the next scene. There is a happily ever after, but the epilogue doesn't take it far enough, even if it gives a hint of what's to come.
Melody Anne is a fairly new-to-me author. I look forward to reading more, not only in this series, but the other books she's written as well.