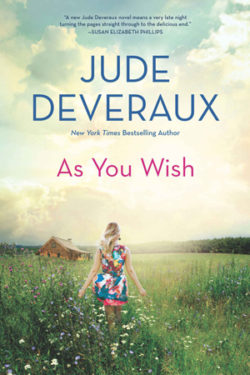 Author

Jude Deveraux

Release Date

March 6, 2018

Publisher

MIRA Books

ISBN/ASIN

9780778307617

Our Rating

Reviewed by

Michele Rioli
Our Review
Go on a journey of shocking secrets, profound sadness and wishful thinking in Jude Deveraux's new novel in the Summerhouse series. In AS YOU WISH three ladies meet at a Virginia summer cottage. Each are there for different reasons but their lives, inexplicably, intermingle.
Elise, a slender pretty girl in her twenties, has marital problems big time. Her husband's love lies with his pregnant mistress. Yep, and the kicker is Elise's parents arranged for her to marry him in the first place. Elise wants out of her loveless marriage. But how?
Then, there is Kathy, a beautiful buxom lady in her mid-forties, who is married to an extremely handsome, career-driven man who is in love with his secretary. Kathy is very insecure. Her weight has always been a bone of contention. Her father, owner of an advertising firm where her hubby works, always puts her down. Plus, her husband spends most days working late or traveling, supposedly. Kathy is expected to take care of all the household detail. She also works out advertising problems for her dad and hubby but isn't thanked or compensated for it. She's had enough! Kathy wants a husband who loves her unconditionally. Is that too much to ask?
Also, without a question, the star of the story, Olivia, a beautiful, brassy, clever woman in her sixties, has just married the love of her life. Her first marriage was dreadful and stressful. What hardships she endured! If only she hadn't been so proud in her youth. What she knows now, she would have done things differently years ago.

AS YOU WISH, a sensational novel, is at times heartbreaking, intriguing, and devastating but is filled also with wittiness, joyfulness and priceless moments. It's a triumphant tapestry of three women's lives and how they share a common bond. They all meet at a fanciful summerhouse under suspicious circumstances. Each woman shares their life story. As they share their past and long-held secrets, a deep camaraderie evolves. Then, each lady is granted the chance to change their fate. Will they do it?
Ms. Deveraux's stories radiate with empowerment, provocative dialogue, and love. I always enjoy how she takes the reader on unexpected adventures with fascinating results. Ms. Deveraux deals with serious topics in this book but adds touches of humor to create a warm atmosphere. Genius! Her stories make you think when all is said and done. What I learned is that it is the simple things in life that bring true happiness. A compliment, a chaste kiss, congratulations on a job well done, that promotes a deep sense of satisfaction and well-being. That said, AS YOU WISH is a masterpiece with an interesting twist on the "what if" topic of love. Beautiful, complex and simply divine!