Aspen Crossroads (Whisper Canyon)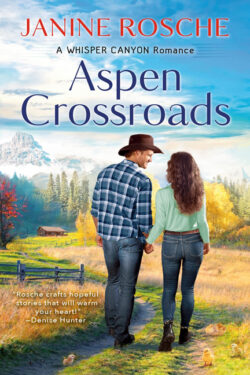 Author

Janine Rosche

Release Date

August 24, 2021

Publisher

Berkley

ISBN/ASIN

9780593335758

Our Rating

Reviewed by

Jo
Our Review
ASPEN CROSSROADS is the first book in the WHISPER CANYON series, and I'm looking forward to reading more since there seem to be a lot more stories to tell. The premise of the book is built around three women who have gotten away from sex trafficking and sex work. They are painstakingly remaking their lives thanks to Jace and an organization he works for called Secondly, but with difficulty due to the politicians and citizens of the small town of Whisper Canyon. But God and his teachings are often there, even if it doesn't always seem that others are listening.
They all work hard to open an upscale restaurant on land that has more history than Jace is aware of. When Haven, who has her own burdens to carry, is hired as their counselor, things don't go as planned. No one wants to open up to her, and no matter what she tries, nothing seems to work. But little by little, she starts to get through to them. Haven and Jace definitely have an attraction when they first meet over a disabled baby chicken, and they come to rely on each other.
The characters in this story are fleshed out. Haven's family has been in town since its inception and her family has a lot to do with the story. As the story progresses, we get deeper into everyone's lives and watch secrets begin to unravel. There is wonderful closure and a happily ever after that was almost too good to be true. The epilogue is a wonderful addition to the story. There are hints of what might come in future books, and I'm looking forward to reading them all. I especially liked the cover.