Bad Boys Don't Date Clumsy Girls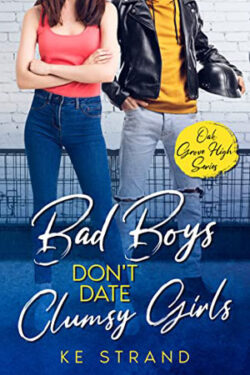 Author

KE Strand

Release Date

June 1, 2022

Publisher

ISBN/ASIN

B09XVPQV1Y

Our Rating

Reviewed by

book lover
Our Review
BAD BOYS DON'T DATE CLUMSY GIRLS is book 1 of the Oak Grove High series, a young adult romance by KE Strand.
Ava Landry is hopelessly clumsy, but with her dysfunctional home life it's no surprise. The only thing that keeps Ava sane are her brother, Joel, and her best friends, Bek and Sam—until bad boy Dylan walks into her safe haven and turns her life upside down.
KE Strand has seamlessly woven themes of familial love, romance, and friendship into this book and ends with a different twist that shows troubled people have the capacity to change. This book will make you cringe, cry, and warm your heart. I highly recommend this book.
Recommended Read