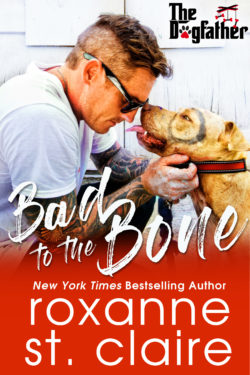 Author

Roxanne St. Claire

Release Date

January 26, 2018

Publisher

South Street Publishing

ISBN/ASIN

978-0-9981093-7-4

Our Rating

Reviewed by

Raonaid
Our Review
Trace Bancroft returns to Bitter Bark, North Carolina, a changed man. When his dog Meatball falls ill, he has no other recourse but to bring him to the best veterinarian in town. Trace discovers the unescapable repercussion of his one night with Molly Kilcannon fourteen years ago – a daughter who does not know him. He agrees to work at Waterford Farm as a trainer in exchange for Meatball's vet expenses. Trace wants Prudence to get to know him better before he and Molly upheave her world with the big reveal. Will Prudence accept Trace as her father? Or will his years in prison stand between them?
Dr. Molly Kilcannon runs two veterinarian offices, one in town and another in her family's canine facility. She dreads telling her rule abiding, thirteen-year-old daughter about her absentee father. Out of the blue, the man in question re-enters Molly's life with a very sick dog. As the dog recuperates, she and Trace decide the proper time to reveal everything to Prudence. Molly discovers she wants to pick up where they left off fourteen years ago. Can the Dogfather claim another success in his matchmaking? Or will Prudence stand in the way of their budding romance?
I love reformed bad boys and Trace Bancroft is no exception. Life dealt Trace a tough hand, but he accepts the fact and continues on with his life. Trace's stint in prison reformed him and gave him a new lease on life. I love that he refuses to let pride stand in the way of his dog's life. Instead of accepting charity, Trace finds a better way to pay the Kilcannons for Meatball's vet expenses. I like how he is both eager yet leery about becoming a part of his daughter's life. However, what I adore the most about Trace is how he puts Prudence and Molly's needs above his own.
Molly is such a remarkable woman. Thanks to her deceased mother's sage advice, she continued toward her dream of becoming a veterinarian, even though it took extra years. I love Molly and Prudence's relationship. It makes me nostalgic for the relationship my mother and I shared during my teen years. I like that despite Molly's fears and misgivings, she does not deny Trace their daughter. But, what I admire the most about Molly is how she helps Trace experience the joys of love, overlooking the screw ups in the past.
BAD TO THE BONE is book four in Roxanne St. Claire's dog-orientated contemporary series, THE DOGFATHER. I love that the author includes all dog types than just purebreds. I am still a little bummed that a dachshund is only mentioned but never introduced because they are my favorite breed.
BAD TO THE BONE is a touching story about family and second chances in both life and love. Each story in this series succeeds the prior one in poignancy. I cannot wait to see which remaining Kilcannon will fall next to the Dogfather's match-making machinations.
A Recommended Read!