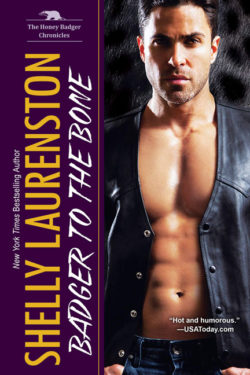 Author

Shelly Laurenston

Release Date

March 31, 2020

Publisher

Kensington

ISBN/ASIN

9781496714404

Our Rating

Reviewed by

SJ
Our Review
Shelly Laurenston returns to her Honey Badger Chronicles, loosely related to her Pride (shapeshifter) series, with BADGER TO THE BONE. It helps to have read the previous books in The Honey Badger Chronicles, as there are a lot of characters to keep track of, and the book is richer for having some idea of who fits into which family/pairing. 
Laurenston is still the at the top of her game with humor and zany situations involving danger and laughs while her honey badgers roll around in trouble. Max MacKilligan finally finds love with a shifter—Zé—who has no idea he's a shifter! While Max is volunteered to help poor Zé, there are humans after her, a criminal father to take care of, and an insanely angry shifter with a vendetta.
It's just another day for the crazy honey badgers, and watching Ze learn about his jaguar shifter heritage nicely plays out against his family issues. This story is much more humor and dangerous shifter antics with a dash of romance, but it still satisfies.
Fans will love it, but newer readers would be best to start with the first book in this series, HOT AND BADGERED, followed by IN A BADGER WAY.