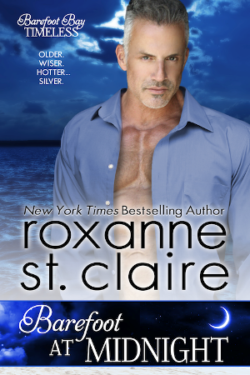 Author

Roxanne St. Claire

Release Date

October 18, 2016

Publisher

South Street Publishing

ISBN/ASIN

B01LXWY5OW

Our Rating

Reviewed by

Raonaid
Our Review
Lawson "Lawless" Monroe is an unemployed chef and former bad boy drifter. He remains in Barefoot Bay to search for the new owners who took over the local dive bar. Lawless refuses to give up until the Toasted Pelican belongs to him as promised. A girl from his high school days throws a massive wrench in his plans by turning the restaurant/bar into a gastropub. To secretly search the place for his friend's missing will, Lawless convinces Libby to allow him to live at the Toasted Pelican and cook. Fate throws yet another obstacle in Law's path, one that not only threatens him but Libby as well.
Liberty "Libby" Chesterfield is a certified yoga instructor. She assumes ownership of Barefoot Bay's local dive with the aid of her lawyer's twin brother. Libby dreams of transforming the place into a yoga studio, a haven for women, however Lawless insists he too has claim on the restaurant/bar. To help in winning the Toasted Pelican, she decides to sway Lawson into helping her obtain his late friend's DNA for testing. Libby wants to trust Lawless, but the painful reminder of her failed marriages makes her hesitant. Can Libby and Lawless move beyond their past hurts and agree to a merger of their dreams?
I love Lawson's nickname because it fits the persona he adopted. His bad boy, drifter image, I believe, is just a façade to hide the wounded soul desperately seeking forgiveness and love. I love how cooking replaced drinking and partying in Law's life, allowing him a more positive outlet than relying on alcohol's numbing yet poisonous bliss. I found it incredibly sweet how he continues to keep his friend's memory alive, even sharing his memories with Libby. I admire Law and Libby's desire for an honest and fair court battle instead of employing underhanded tactics to win.
I have liked Libby Chesterfield since the start of the BAREFOOT BAY TIMELESS series. She possesses this dry, smart-alecky attitude that amuses me, but I feel that attitude is just a front she erects to protect the inner wounded teenager continuously wronged by men. It was clear from the beginning of the series that Libby and Lawless had history but of a different variety than Ken and Beth's, the couple from book two. I adore Libby's relationship with her daughter, especially their easy banter.
BAREFOOT AT MIDNIGHT is book three in Roxanne St. Claire's contemporary series featuring handsome silver foxes, BAREFOOT BAY TIMELESS. I adore this series. It is a nice change-of-pace including heroines and heroes that are closer to my age. I am happy that the author promises to write more stories with silver foxes.
BAREFOOT AT MIDNIGHT is a beautiful story of two people overcoming their past and finally finding a person who can love and accept them. I am glad this book is not the last in the beautiful, tropical locale Roxanne St. Claire created, that she promises more stories in Barefoot Bay, Florida.