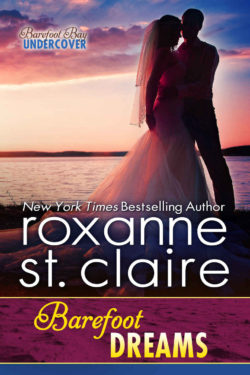 Author

Roxanne St. Claire

Release Date

February 4, 2017

Publisher

South Street Publishing

ISBN/ASIN

B01MUQCOE8

Our Rating

Reviewed by

Raonaid
Our Review
Gabriel "Gabe" Rossi masquerades his witness protection program as a resort security firm at Barefoot Bay. He scoffs at his employee's portent of doom about Lila's dream. Gabe reluctantly agrees to participate in a wild goose chase to ease both his fiancée's and employee's worries. He not only fights a randy goat but wades through thorny brambles and mud to counteract the curse hanging over his wedding day.
Lila Wickham is Barefoot Bay's latest bride-to-be. She wakes on the big day from a terrifying dream that is filled with blood. Lila panics when her fiancé's Jamaican employee interprets the nightmare's meaning. She and Gabe are scrambling all over Mimosa Bay to counter the curse when the first two forewarnings come true. Can she and Gabe complete all three tasks before the final forewarning descends on their son?
I love Gabe's foul-mouthed and snarky attitude. He made the entire story fun to read. I am just glad my son Gabe is nothing like this larger-than-life character. I adore how easily he fell into fatherhood, especially when he gets a son who is a carbon copy, faults and all, of him. Gabe may openly rebuff Poppy's unshakable belief in curses; however, that does not stop him from playing along to assure the women in his life and protect his son. I love that Gabe shows his romantic side by designing Lila's wedding ring.
I tried to like Lila but for some reason, I could not connect with her, which is strange since she possesses many qualities I prefer in heroines. She made it difficult at times to get into the story, but Gabe, little Rafe, Poppy and Nino's antics and comebacks quickly distracted me. I do like Lila's respect for Jamaica's superstition and spirituality, even though she does not believe in it or practice it. Lila impressed me with the length she is willing to go to protect her son.
BAREFOOT DREAMS is book four in Roxanne St. Claire's contemporary series, BAREFOOT BAY UNDERCOVER. I love how the author cleverly includes beloved characters from each of the prior series, BULLET CATCHERS, GUARDIAN ANGELINOS, and BAREFOOT BAY. It was great to reconnect and reunite with them again.
BAREFOOT DREAMS is a sweet and action-packed short story about the extent people are willing to go for their loved ones. It is always a treat to return to Roxanne St. Claire's Barefoot Bay world. I hope the author considers giving JD Rossi his comeuppance in a future book, perhaps somehow involving him in his brother's business.