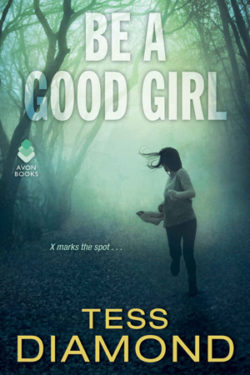 Author

Tess Diamond

Release Date

March 27, 2018

Publisher

Avon

ISBN/ASIN

B071RQX5VJ

Our Rating

Reviewed by

BPoston
Our Review
Tess Diamond writes intense thrillers and BE A GOOD GIRL is not disappointing. What a wild ride and great read!
FBI Special Agent Paul Harrison has returned home for some much needed rest and relaxation. It is time he faced his past. He lost the love of his life to a serial killer and since that time has worked nonstop to put monsters behind bars. Maybe it's time to take a break, focus on his future, and rethink what he truly wants.
Abigail Winthrop hasn't seen Paul Harrison in years. Her best friend, Paul's girlfriend, was murdered several years ago. The death of her friend lead her to become an investigative journalist. Abigail is dogged, stubborn, and not afraid to seek out the truth. However, the story she's looking into now concerns the death of her friend. She has found information that might prove the man who went to prison for her murder might not the the one responsible. This throws Abigail into a tailspin, but she brings the information to Paul, who at first refuses to believe it until another girl goes missing. There are similarities between the cases that were not made public.
As Paul and Abigail begin to suspect there are very strong feelings between them, they realize that the information Abigail has discovered proves there is a psychopath who needs to be stopped. They begin a journey that tests their trust, friendship, and love for each other. This book took me on a roller coaster ride I thoroughly enjoyed! I can't wait for Ms. Diamond's next book to come out.  
Recommended Read