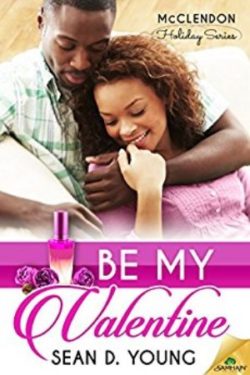 Author

Sean D. Young

Release Date

April 19, 2016

Publisher

Samhain Publishing LTD

ISBN/ASIN

9781619233508

Our Rating

Reviewed by

Jo
Our Review
While a fast paced read with a lot of heartache due to suspected domestic abuse that was then confirmed I didn't find myself as vested in BE MY VALENTINE as much as I was in book two in THE MCCLENDON HOLIDAY SERIES, THE CHRISTMAS PROMISE.  I found it difficult to warm to Jacques who was too full of himself and pouted and sulked when Patrice couldn't give him her undivided attention.  Really, deal with poor Nicole who's been battered and try to keep her safe or play kissyface with Jacques.  Hmm, wonder which one I'd pick?  Patrice is a strong woman, always giving her sisters grief about being all in for their man since she's never really been in love before but now the shoe's on the other foot.  Unfortunately, Patrice became a cliche around Jacques or even just thinking about him.  She runs a place of business with a solid reputation and not being professional in her business definitely seemed out of character for her.  I loved the storyline of the fragrance but it seemed to move too fast especially since Jacques took over the project without keeping Patrice in the loop.  I was happy to see that things worked out in the end.
I loved that we were reunited with the rest of the McClendons and that they were always there in support of one another – no questions asked or almost none.  The story line with Nicole was heartbreaking but true to life.  I was glad to see it had a happy ending after the darkness she had to go through.  There were family and friends, co-workers, business associates, drama, meetings, sorrow, tears, fear, anger, laughter, happiness, celebrations, loving and love.  There were burn up the sheet moments that almost had me lowering my thermostat.  There were heartaches as well as heartwarming moments.  There was closure and a happily ever after in the offing and romance galore once life settled down the way Jacques felt it should be.
Young is a new to me author and I look forward to reading more of her books including the first book in this series, A MCCLENDON THANKSGIVING and her fourth book in this holiday series, A HUSBAND BY NEW YEAR'S .