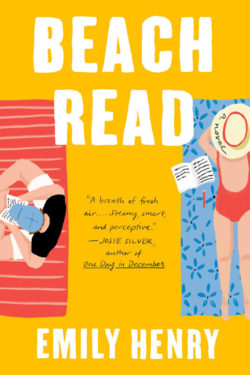 Author

Emily Henry

Release Date

May 19, 2020

Publisher

Berkley

ISBN/ASIN

9781984806734

Our Rating

Reviewed by

Jo
Our Review
BEACH READ by Emily Henry is a story filled with angst, secrets, family, friends, and more. January, a romance writer with writer's block and deadlines looming, is given a letter written by her father upon his death, along with a key to a house he owns in the little beach town in Michigan where he grew up. Her mom is not too thrilled with the whole scenario but doesn't want to talk about any of it. When January finally travels from Ohio to Michigan to clean out the house so she can sell it, she doesn't expect to meet someone she knows living next door or to be able to write again.
There are some laugh-out-loud moments as January and her neighbor, Gus, meet and get to know each other again. She and Gus went to college together and were always rivals in writing class. He is a successful literary fiction writer and doesn't like her successful happily-ever-after books. They currently both seem to be struggling to get words on paper.
When they make a bet about writing in a different genre than they usually do, the story really takes off. I loved their research on Fridays and Saturdays as well as how they slowly get to know each other better. The characters have a depth to them, both vulnerable when it comes to letting others in. Their chemistry is real, but their lack of communication causes problems a lot of the time.
The descriptions of the small town and beach are vibrant; the small town feels real. The romance is nicely woven through the plot, which has a nice pace, in addition to an unexpected twist at the end. The last chapter takes place nine months later and gave me the closure I look for. The cover is playful and fits the book, and the titles for each chapter are spot-on. I enjoyed the author's Behind the Book section and Discussion Questions at the end.