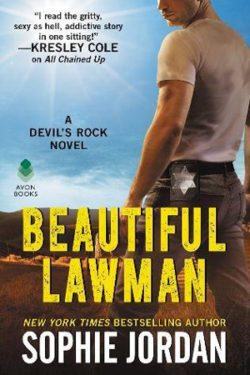 Author

Sophie Jordan

Release Date

December 26, 2017

Publisher

Avon

ISBN/ASIN

0062666568

Our Rating

Reviewed by

BPoston
Our Review
Have you ever been judged by the actions of your family? Piper Walsh has a family history where most members have been on the wrong side of the law. Because of this, she has been treated as if everything they have done is all her fault. She would like to leave the town she grew up in, but with her brother in prison, she's taking care of his daughter and doesn't want to be far away from where he's being held. She also knows he is not guilty of doing the crime he was accused of.
Hale Walters is the town sheriff. He sees most things as either black or white. He has a strong sense of justice and believes if you do the crime, you definitely should do the time. The Walsh family has a sordid past and need watching over. However, he's very attracted to troublemaker Piper Walsh and can't seem to shake what he believes he knows about her with the woman he keeps crossing paths with. He can't be wrong about her, can he? 
BEAUTIFUL LAWMAN is the story of two people who come from different sides of life. One is struggling to overcome a history not of her making, while the other is learning that life is not as cut and dried as he always thought. I found myself holding my breath waiting to see if Piper and Hale would acknowledge and give in to their mutual attraction and claim each other regardless of what others think. A great read!
RECOMMENDED READ