Beauty and the Billionaire: The Wedding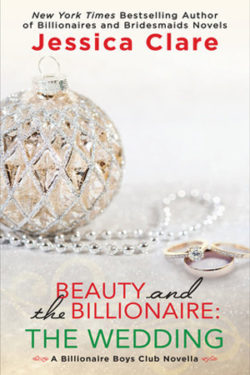 Author

Jessica Clare

Release Date

November 15, 2016

Publisher

InterMix

ISBN/ASIN

9781101989234

Our Rating

Reviewed by

Jo
Our Review
I was thrilled to see Jessica Clare has a new book out in the BILLIONAIRE BOYS CLUB SERIES, BEAUTY AND THE BILLIONAIRE:THE WEDDING, which is book 6.5 in the series. It's a novella at only ninety pages and was an extremely quick read. I've read all the books in the series except books 3.5 and 4, HIS ROYAL PRINCESS and ONCE UPON A BILLIONAIRE, respectively, which I will have to rectify.
We are reunited with the characters that have been in other books in the series as well as Gretchen's sister and Audrey's twin, Daphne, the rock star. This is as much their story as it is about the days leading up to Gretchen and Hunter's Christmas Eve wedding. Gretchen is driving herself nuts as well as those around her–firing everyone that has a role in the wedding. And if they're still a part of it, they are MIA either due to the weather or to get out of town and out of Gretchen's way. There are a few chuckles and tears as there is one disaster after another including meltdowns by Gretchen. Hunter throughout is dependable and stoic, always reassuring Gretchen that he just wants to be married to her and be able to spend every day together. There is nice closure and a happily ever after or two or three as well.  
I have read this series by Clare as well as a couple of books in the BILLIONAIRES AND BRIDESMAIDS SERIES. I will be adding more of her books to my always growing TBR pile!