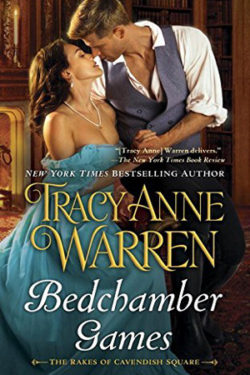 Author

Tracy Anne Warren

Release Date

March 7, 2017

Publisher

Berkley

ISBN/ASIN

9780451469243

Our Rating

Reviewed by

Michele Rioli
Our Review
It's genius and very clever! Rosamund Carrow, a beautiful and well-educated woman in the field of law, takes over as barrister of her father's law practice after he suddenly passes away in merry old London, England in BEDCHAMBER GAMES by Tracy Anne Warren. Rosamund and her brother, Bertram, concoct a scheme in which she will pose as a male barrister, since the law doesn't approve of women handling court cases. Bertram would if he could, but nervousness hinders him in public. Will Rosamund be able to pull off this brilliant charade?
Lord Lawrence Byron, top-notch barrister, is bested in court by an unfamiliar barrister. Byron, an extremely attractive man, is dumbfounded to say the least. He hasn't lost a case in eons. This calls for some background research on this rascally rival known as Ross Carrow. Who is he, and where did he come from? Byron's curiosity is piqued after spending time with Ross and coming away with feelings of longing, which don't make sense, since Byron is a confirmed womanizer.
Byron, in due course, slyly discovers that Ross is in reality a woman–and is in fact Rosamund Carrow!  Byron's heart is totally invested in Rosamund. Does he tell her he knows? Will he expose Rosamund as a shyster? Will he divulge his love for her? Then, Byron makes a proposal that will rock Rosamund's world. Does Rosamund fall in love with Byron?
BEDCHAMBER GAMES is a wily, risky, and witty novel. Ms. Warren does a bang-up job telling a story of a secretive love that unexpectedly blossoms into something more. Rosamund is a young woman with a generous heart, a willful spirit, and a few secrets. Byron is a practiced barrister with an irrepressible charm that sways women. When Byron loses to Rosamund (aka Ross Carrow) in the courtroom, he vows to uncover the man's background. What happens next is anybody's guess!
The laws of attraction burn brightly between Lord Lawrence Byron and Rosamund Carrow. Their sparks ignite the pages! The plot is fashionably romantic and very smartly written. There are sneaky scenarios, sassy interplay, a likable cast, and a clever plot. Wait until you see what Byron propositions to Rosamund!
This book is too good to pass up. BEDCHAMBER GAMES is truly imaginative, down-to-earth scandalicious, and amazingly intriguing. A story with lots of pop!
A RECOMMENDED READ!