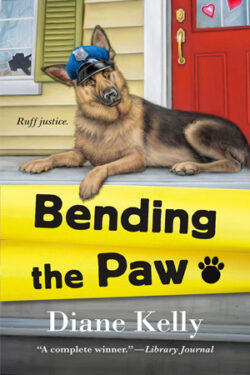 Author

Diane Kelly

Release Date

October 27, 2020

Publisher

St. Martin's

ISBN/ASIN

9781250197399

Our Rating

Reviewed by

Michele Rioli
Our Review
It's a frightful blood-filled mess in Diane Kelly's new book, BENDING THE PAW. Who killed the victim? Where is the victim? Will Megan and Brigit find the killer?
This new installment in the PAW ENFORCEMENT series is a shiny new police procedural story of a brutal killing gone wrong, but there's a hiccup, no body! When Megan and her trusty buddy cop dog, Brigit, investigate the scene of the bloody slaughter, something smells foul. Megan learns the wife came home, saw her kitchen splattered in blood and now can't locate her husband. The lead detective in the case calls Megan in to help with the crime. Leave it to Megan and Brigit to uncover the complex clues. They will have to do some creative thinking on this complicated crime.
Then the town has a bang-up hailstorm, bringing roof contractors out of the woodwork. Megan hears about one contractor who might not be legit. She has to use all her detective skills to solve this slippery case. Romance is in the air also between Megan and her boyfriend, Seth. They try to find alone time, but something always seems to pop up between family, friends and work. Megan is dedicated to her job and is determined to nab the murderer. Will she find out what happened? Or will this be a dog-gone, difficult, dastardly deed gone deadly wrong?
Catchy, clever and cunning, BENDING THE PAW is totally unput-downable! Be prepared to have a drink and snack nearby, because this story will have you reading until the very end. A bloody murder scene with no body, a shifty roofing contractor with a leaky alibi, there's love in the air, plus sassiness and wittiness abound. I love Diane Kelly's adept use of comical lightness in her stories, which adds a crisp spin on an otherwise serious story. I rate this book topnotch with its tight plot and smart pacing unraveling the clues. You won't know the angle of the crime until the very end. I had fun guessing but I was wrong. The reader is rewarded with three different perspectives, the dog, Megan and the killer's point of view, which adds a unique voice to the whole story. This is a super successful series you will absolutely love!
BENDING THE PAW is like a brandy Alexander, smooth, appealing and smartly concocted to maximize the wow factor.