Beyond Scandal and Desire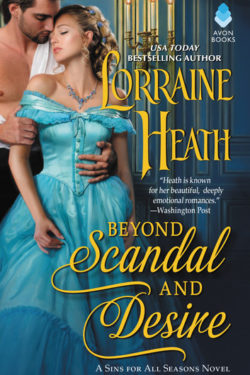 Author

Lorraine Heath

Release Date

January 31, 2018

Publisher

Avon Books

ISBN/ASIN

978-0-05-267600-9

Our Rating

Reviewed by

Diana Mcc
Our Review
 Sexy, emotional, and very romantic, you cannot go wrong with BEYOND SCANDAL AND DESIRE.
This book touches on the subject of baby farming. Where the aristocracy would give bastard babies along with money to be raised by mostly widows outside of London. Not all were raised, many were killed. This is the story of one such man, Mick Trewlove, an unwanted bastard of the Duke of Hedley.
Ms. Trewelove raises the children given to her as her own. Mick is ambitious and rises far above his humble beginnings to become a successful and prosperous business man. Even with all his wealth the thing he wants most is to be recognized by the Duke of Hedley. The Duke refuses to acknowledge him.
Mick sets out to destroy the Duke's legitimate son and all he holds dear, including wooing his potential wife, Lady Aslyn. Mick thinks once he has this power over the Duke's family The Duke will be forced to acknowledge him.
Lady Aslyn Hastings is the Duke's ward. It has always been the Duke and Duchess's belief that Aslyn and their son would marry. Aslyn loves the Duke's son as a brother, but feels there must be more to 'love' than the feelings he invokes in her. When she attends a hotel opening and meets the enigmatic, darkly handsome Mr. Trewlove, she is swept away by the feelings of adventure and lust.
Once Mick gets to know Lady Aslyn, he finds that he cares more for what Aslyn thinks of him than what the Duke thinks of him. The story is complicated with several intriguing story lines.
The sexual awakening of the sheltered Lady Aslyn by Mick is steamy and well written.
Mick's revenge plot falls short with the Duke refusing to acknowledge him, again. In his desperation, Mick goes to the Duke's house to beg Aslyn's forgiveness for his revenge plot, because really she is all that matters.
While talking with Aslyn, the Duchess appears and a confrontation reveals a truth that rocks his and the Duke's life.
An unexpected twist and a satisfying HEA.