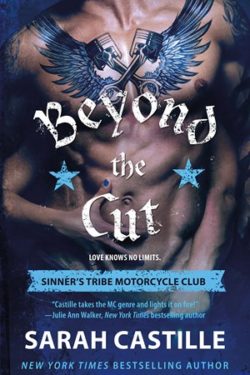 Author

Sarah Castille

Release Date

June 2, 2015

Publisher

St. Martin's Press

ISBN/ASIN

978125005610

Our Rating

Reviewed by

Chrissy
Our Review
Dawn Delgado's life is a mess. Thanks to her ex-husband, Jimmy "Mad Dog" Sanchez, winning custody of their twin girls (due to planted evidence escaping his control) is practically impossible. She's forced to sneak around and bribe his sister to even spend time with them. She wants nothing to do with bikers, but Cade "Ryder" O'Connor might just be able to change her mind. He's extremely attracted to the little fireball and adores her kids. He'll free them from the hold Mad Dog has on her so that she can be with him, free of worries. Doing so, however, won't be easy. But it will definitely be worth it.
BEYOND THE CUT is the second book in Sarah Castille's SINNER'S TRIBE MOTORCYCLE CLUB series. We were first introduced to Dawn in ROUGH JUSTICE. I really wanted to know more about her story, so I was thrilled to grab a copy of this book and dive right into her and Cade's romance.  I love Dawn's defiant attitude when it comes to Jimmy and admire her determination to be with her kids any way she can. Cade's just as admirable since he never gives up on what he wants – and what he wants is Dawn and her girls. He despises Mad Dog. It's a win-win situation going up against the rival MC biker. 
There's an air of danger throughout the plot that ensnares the reader while simultaneously touching your heart with Dawn and Cade's story. Ms. Castille takes everything you believe to be true about biker gangs and adds an element of humanity, so that readers can view them as people – rough around the edges and a law unto themselves, but people just the same. 
I'd highly recommend the series. However, the books can each be read as stand-alone stories, so be sure to check out all the titles in the series and dive right in.
ROUGH JUSTICE
BEYOND THE CUT– A RECOMMENDED READ!
SINNER'S STEEL
and CHAOS BOUND