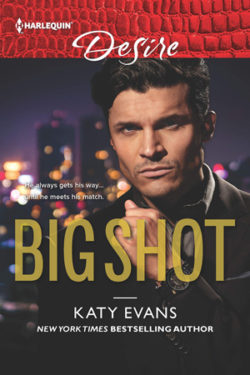 Author

Katy Evans

Release Date

August 1, 2019

Publisher

Harlequin Desire; Original edition

ISBN/ASIN

B07P72WX2G

Our Rating

Reviewed by

LJT
Our Review
​​​​​BIG SHOT by Katy Evans is a fast-paced read that takes place in the Windy City. It is a workplace romance between CEO William Walker and his assistant, India Crowley. They have been working together for years with William treating India like a doormat most of the time. Despite that, India is a strong woman and knows how to push William's buttons. They both work very hard, however, William is a workaholic. India spends her free time writing her novel and knows that one day she will be able to pursue her passion for writing professionally. There has always been an underlying attraction between the two.
Luckily for India, she receives a job offer and is able to quit both her job and William. Naturally William is shocked, however, he has no choice but to accept her resignation. A few days later, William is saddled with watching his infant niece for two weeks. As a result, he asks India to come back for the short-term, in order to keep his business in order while he takes care of his niece. India agrees after negotiating a rate of three times her former salary. Working from William's home brings them closer together, and they truly get to know each other, both in and out of the bedroom.
This was a cute story and I loved the way William took care of his niece. Babies have a tendency to break down barriers, and William's ability to be a loving uncle improved with each day. Connecting with India was a bit difficult because I found her to be cold and a bit calculating. Their sexy times were hot and sexy. Overall, a solid romantic read.