Big Trouble In Little Greektown, A Goddess Of Greene St. Mystery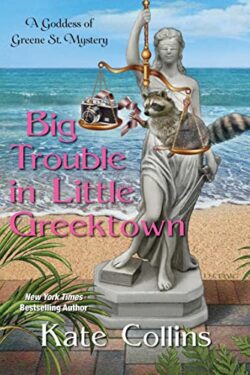 Author

Kate Collins

Release Date

November 30, 2021

Publisher

Kensington

ISBN/ASIN

9781496724373/‎B08Y668751

Our Rating

Reviewed by

Michele Rioli
Our Review
Sometimes nature walks can have startling surprises, as Athena and her P.I. boyfriend Case find out when they stumble upon a dead body in Kate Collins' new book, BIG TROUBLE IN LITTLE GREEKTOWN. Once again, pretty Athena Spencer, sleuth extraordinaire and her dashing boyfriend, Case Donnelly, are involved in a murder investigation after finding the body of a deceased photographer lying under the weeds during a nature tour in the forest along Lake Michigan. Case is hesitant about investigating since he is studying for his P.I. License. But, Athena persuades him to help, because her best friend asked her to snoop. What challenging clues will they unearth regarding the inhabitants of Little Greektown?
Dan opens up a P.I. office, that includes Athena and a silent partner, who is definitely not quiet! Athena has competition. Who is it? Plus, Athena's son Nicholas and her fun loving, loud Greek-American family provide much entertainment and comic relief to her chagrin. Athena loves them but their nosing and teasing get irritating. There is danger about and Athena is oblivious to it until several clues click together. Then everything breaks loose. Several suspects are suspicious to doing the dirty deed. Plus, there are many little details and subplots that combine to solve this devious mystery. Will Athena and Case untangle it all in time before something lethal happens?
The action is fast, the characters are quirky and deception abounds in BIG TROUBLE IN LITTLE GREEKTOWN. Nobody is as they seem in this sensational mystery by Ms. Collins. She has again introduced a bevy of suspicious characters all having questionable alibis that Athena and Case sift through. Athena's lovable big family are huge highlights to this charming cozy mystery. I love the diner and the daily gossip mill, which is my favorite aspects to the story. Ms. Collins masterfully combines likable characters, gossipy small-town life, a plot spiced with suspenseful situations into a highly entertaining book. I adore Athena's family, her son, and his pet raccoon, who is so adorable! The story is one big, crazy, scary masterpiece that gets better with each installment. Absolutely love it! Pick yourself up a copy of BIG TROUBLE IN LITTLE GREEKTOWN. A big nosy Greek family and edgy, intriguing murders, is simply divine and funny to boot!