Blame It on the Billionaire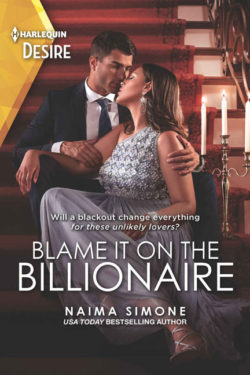 Author

Naima Simone

Release Date

February 1, 2020

Publisher

Harlequin Desire

ISBN/ASIN

B07WRLSRS3

Our Rating

Reviewed by

LJT
Our Review
I really enjoyed BLAME IT ON THE BILLIONAIRE by Naima Simone. It is a meaningful read, with amazing characters that touched my heart, and loathsome characters that evoked tremendous dislike. This is the the third and final book from the BLACKOUT BILLIONAIRES series, and it can be read as a standalone.
Nadia Jordan had to grow up fast, because her trampy mother did not care whether she or her younger brother lived or died. Nadia knew she had to keep her brother safe, so they relocated to Chicago and started a new life. Nadia gave up her dreams to take care of her always appreciative genius of a brother.
One night the power goes out at Nadia's workplace, and she gets stuck alone with Grayson Chandler, the company's gorgeous CEO and founder. They share an immediate and lustful attraction, which evolves into the best sex of their lives. Days pass and they both can't forget their one steamy encounter.
Although Grayson's scheming parents foolishly believe he will be the next CEO of the Chandler conglomerate, Grayson has created his own successes. Spending the blackout with Nadia causes him to feel once again, and as a result, he asks her to be his fake fiancee in order to stop his parents from taking over his future. In exchange, the tuition to Yale for Nadia's brother is secured. They agree not to fall in love. However, nothing ever goes according to plan.
This is a great story, although the steamy scenes lacked a bit of romantic chemistry. With the exception of Nadia's brother, the secondary characters were delightfully manipulative and added a lot of interest to the plot. The respective baggage that both Nadia and Chandler have to deal with is intense at times. Overall, a solid "engagement of convenience" romance with terrific character development.