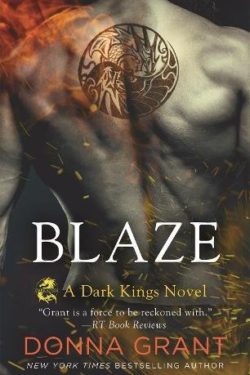 Author

Donna Grant

Release Date

May 30, 2017

Publisher

St. Martins

ISBN/ASIN

1250109558

Our Rating

Reviewed by

Raonaid
Our Review
The plot intensifies in BLAZE, the latest story in the paranormal DARK KINGS series. Another villain enters the scene, and she may prove to be an even match for the Dragon Kings' magic in the upcoming fight.
Is Anson the fate's answer to Devon's desperate yearning? She works for a prestigious technological company based in London, England. Thanks to Anson and his comrades, Devon learns about Kyvor's shady side. She agrees to help them find the information they desperately need from within the firm. Devon discovers Anson's secret when her safety is compromised. When the Dark Fae snatches Anson away, she refuses to remain on the sidelines and insists on aiding in his rescue. Can Devon learn what it is about her that interested Kyvor?
Anson is the Dragon King of the Mochas. He accompanies three allies to London, England, to investigate a shady tech company, who threatens to expose the Dragon Kings' secrets. Anson shadows one of the firm's employees in hopes of convincing the woman to act as their spy. He wavers in his decision to involve Devon Abram in their scheme once Anson gets to know her better. When she is kidnapped, he risks exposure and capture to save her. Can Anson protect Devon from Kyvor and the mysterious druid helping them? Will he uncover who is supplying the company with their information?
It took me a while to warm up to Anson. His aloof detachment is an act to hide his worry for his fellow Dragon Kings' human mates and allies. I love how once Anson warms up to someone, he is quick to use every trick in his arsenal to protect them. I like how initially he did not want to involve Devon in their endeavor and tries several times to convince his companions to choose another candidate. Anson has certain standards that he refuses to abuse or deviate from, a trait about him I adore.
Devon is my favorite heroine in the entire DARK KING series. She possesses amazing strength-of-will and determination. Devon is no stranger to tragedy; however, instead of self-destructing, she applies herself to work. She permits the memories to remain close, but she does not allow them to interfere in her life or future. I admire Devon's drive to advance at her job through her own hard work and grit. I like how she decides to cut ties with the firm once Devon learns about their shady side through her own sleuthing. But what I like most about Devon is how she persisted in helping in Anson's rescue despite her lack of magic and fighting ability.
BLAZE is book eleven in Donna Grant's paranormal romance series, DARK KINGS. I love how the Warriors and Druids from the author's DARK SWORD and DARK WARRIOR series play an important and pivotal role in the story. It is always nice to revisit with couples from the author's other series again. It feels like reacquainting with beloved friends that I have missed.
BLAZE is a gripping novel of unlikely allies banding together against an enigmatic threat. I like how the author throws a new threat into the mix, adding to the growing suspense of the plot. I cannot wait to learn more about this mysterious druid who is threatening not only the Dragon Kings but the Warriors and Druids too.