Blood Heir (Kate Daniels World Book 1)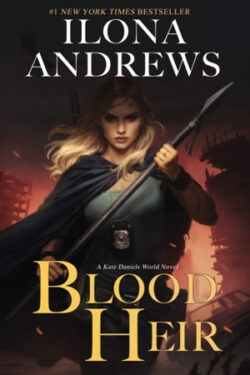 Author

Ilona Andrews

Release Date

January 12, 2021

Publisher

NYLA

ISBN/ASIN

B08D2215RG

Our Rating

Reviewed by

SJ
Our Review
New York Times Bestselling author Ilona Andrews has penned a new novel in the bestselling Kate Daniels world–BLOOD HEIR. The book started out as a love letter to fans and turned into an amazing story all its own that will entertain new readers as well as delight old ones.
Aurelia Ryder comes to town to void a coming prophecy. Her real name, Julie Lennart-Olsen, belonged to the ward of Kate Daniels, previous savior of the city of Atlanta. Eight years have passed since Julie's been back, and in the meantime, her life has changed considerably.
Now looking like a complete stranger with crazy magic and a mission to save those she loves from annihilation, Julie–Aurelia–returns to Atlanta. She can't contact her family without a dangerous prophecy coming true, though she does see plenty of old friends, many fans will clap and jump up and down to see once more.
The passage of time has changed everything, and Aurelia contends with a new pack structure, her uncle who can't know who she is, and a man from her past who left a huge whole in her heart. But the action doesn't center around romance. This is the first of an urban fantasy series with a story arc that will continue into the next book, though the story itself wraps up neatly in this first volume.
With incredible world-building, fascinating magic, and clever banter that never fails to entertain between well-rounded characters, BLOOD HEIR is a MUST HAVE for Kate Daniels fans as well as new readers to the amazing Ilona Andrews.
Recommended Read!!!!!!
As a fan, I have to say, seeing Conlan, Luther, Nick, (Derrick!!!!), and the children of so many characters we know and love, I was thrilled and have already read the book twice. Time to go back for yet another read.