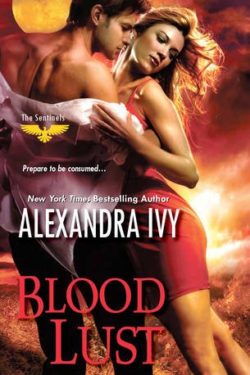 Author

Alexandra Ivy

Release Date

May 31, 2016

Publisher

Zebra

ISBN/ASIN

142013759X

Our Rating

Reviewed by

Raonaid
Our Review
Myst is a foreseer, a clairvoyant with the ability to see the future. She is desperate to change the outcome of the chilling vision that has haunted her. Myst knows, in order to be a part of her young daughter's life, she must trust Bas Cavrilo to help keep the Brotherhood from capturing her. Her fears become realty, however, when the mysterious weapon prophesied to bring harm on the high blood safe haven is not what Myst expected.
Bas Cavrilo is an outcast high blood with the magic of a witch and the great strength of a Sentinel. For his five-year-old daughter's safety, he decides to turn a new leaf and quit the shadowy society he created. Molly's mother breezes back into their lives much to Bas's annoyance. The silver-haired clairvoyant still enchants him. Bas discovers her altruistic reasons for abandoning their daughter five years ago and offers to help her steer clear of the Brotherhood until they can discover a way to thwart the vision from coming true.
I am glad that Bas redeems himself. He starts out in BORN IN BLOOD, the first book in THE SENTINELS, being Valhalla and The Mave's nemesis. The catalyst that prompts him to change his villainous ways, and the start of his redemption, are found in the second book, BLOOD ASSASSIN. He is not the usual villain type found in books. Bas's aversion to following orders and using underhanded methods of getting desired results is the chief reason he opposes The Mave and Valhalla. I love that for his daughter's sake, he is willing to cease his unlawful activities. Bas and Kaede's comradery proves that even bad guys need friends that they can trust to protect their back.
Myst is Bas's perfect opposite. Life has dealt her a rough hand, yet Myst still thinks and worries about other's welfare before her own. Circumstances beyond her control force Myst to sacrifice much. I admire the difficult choice she made in order to keep her daughter protected from the Brotherhood. I also like that she is able to see the good in Bas that he cannot see or believe exist.
BLOOD LUST is book three is Alexandra Ivy's riveting paranormal series, THE SENTINELS. I always look forward to upcoming new stories in this series. I like how the paranormal aspects in THE SENTINELS differ from what is commonly found in the genre.
My love of Japanese animation helped me with pronouncing Kaede's name. I do hope Alexandra Ivy considers him to be the next book's hero. If Bas can be redeemed, so can Kaede.
Lana, Valhalla's Mave, and Wolfe's tenuous relationship heats up in the story's background. I suspect their book will either be the last book in THE SENTINEL series or close to the last. I eagerly anticipate the next book to see who will be the next hero and heroine.