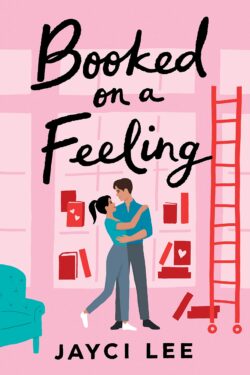 Author

Jayci Lee

Release Date

July 26, 2022

Publisher

St. Martin's Griffin

ISBN/ASIN

B09CNFTV9L

Our Rating

Reviewed by

Michele Rioli
Our Review
Once you start reading BOOKED ON A FEELING, you won't be able to stop! It's a witty, winning and engaging story starring Lizzy, a lovely lawyer, who is worn out after years of working hard to become partner. Lists be damned, Lizzy is determined to accomplish all her life goals. After winning her first case, she should be ecstatic but only feels empty. Realizing she isn't happy, she heads back home to Weldon, where she grew up, and her best friend, Jack Park, lives. Will Lizzy discover what makes her truly happy?
Hunklacious Jack Park, a bookkeeper for his family's brewery, is excited to spend time with pretty Lizzy, his decades-long crush. Jack and Lizzy have been best buds forever, and she isn't aware his affections run deep. He doesn't want to risk losing her, so friends they shall remain.
The owner of the apartment Lizzy's renting, also owns and operates the local bookstore downstairs. Lizzy loves books, volunteers her time, and offers to redesign the bookstore. Handy Jack offers his help. Lizzy loves spending time with handsome Jack. He makes her heart race with those muscular arms and sexy looks. Jack is equally having a hard time keeping his hands to himself. The attraction between them is off the charts hot! Will they throw caution to the wind and hook up?
BOOKED ON A FEELING is an emotional, enthralling story with brilliant dialog, a slowly, pleasurable romance, and unique characters that will truly mesmerize the reader. I loved it all! Ms. Lee writes with a lot of wisdom and wit, delivering a beautifully balanced tale that imbues with heart and soul-searching. Lizzy and Jack can't ignore their attraction to one another. Will it lead to something more? BOOKED ON A FEELING is satisfyingly rich and exquisitely crafted!
Recommended Read