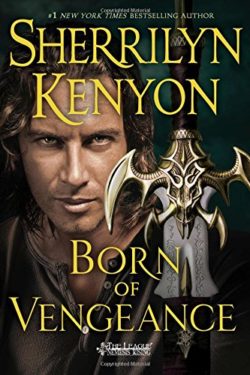 Author

Sherrilyn Kenyon

Release Date

February 7, 2017

Publisher

St. Martins

ISBN/ASIN

978-1250082756

Our Rating

Reviewed by

Raonaid
Our Review
Bastien Cabarro is the carefree, youngest prince to the Kirovar Empire. He is accused of murdering his family. Bastien relies on his military training to stay alive as a Ravin, a living target for The League's assassins-in-training. He lives to exact revenge on the people responsible for his family's deaths. On his suicide mission, Bastien reunites with the only woman he ever loved. Can Bastien elude The League long enough to finally avenge his family's death? Will Ember's presence prove beneficial to his success?
Ember Wylderstarrin is one of many daughters from a military-orientated family. She regrets losing Bastien due to her younger sister's scheming treachery. After Bastien is banished, Ember flees her home to escape the new emperor's machinations. She joins the Tavali when her parents are killed and fights countless battles for the outlaw group. Ember is assigned to assist Bastien in his upcoming mission. Can Ember keep Bastien alive to claim the Kirovar throne? Or will she lose him for good?
Bastien is easy to like and enjoy. He may be royal-born, yet he never disabuses his power or behaves better than others. Instead, Bastien uses his position to defend the underdogs or correct injustices he happens upon. I like how his mouth and actions often land him into trouble. I adore his willingness to take responsibility for his actions, even if it means his misery and unhappiness. However, what I adore the most about Bastien is his unflinching loyalty to his half Andarion cousin Jullien.
I am on the fence about Ember. She possesses many qualities and personality quirks I prefer in heroines, yet I could not connect with her. I think most of my difficulty is because Ember has an insignificant role in the middle of the book. She only appears at the beginning and then towards the end of the story, not enough really to connect with. I admire the many sacrifices Ember made for both Bastien and her family, risking great pain to herself to keep them all safe. I love that despite what transpired between them, Ember never withheld him from their son.
BORN OF VENGEANCE is book ten in Sherrilyn Kenyon's popular Sci-fi romance series, THE LEAGUE. The story jumps around a lot in the beginning. Mostly, I feel the author hoped to establish the beginning, then the fraying of Bastien and Ember's relationship. I notice this book follows the same trend and formula as BORN OF BETRAYAL, book eight, without the lengthy time lapse. However, I enjoy how characters from prior books appear frequently throughout the story.
BORN OF VENGEANCE is a story of two people overcoming great odds and endless trials to finally find their happily-ever-after. I love the snarky humor the author infuses into every book she writes. I wonder who the author plans to write for the next installment of this series.